Protones setzt das Open R Festival um
Lüneburger Firma zeigt sich für Rigging, Beschallung, Beleuchtung und Stage-Management verantwortlich.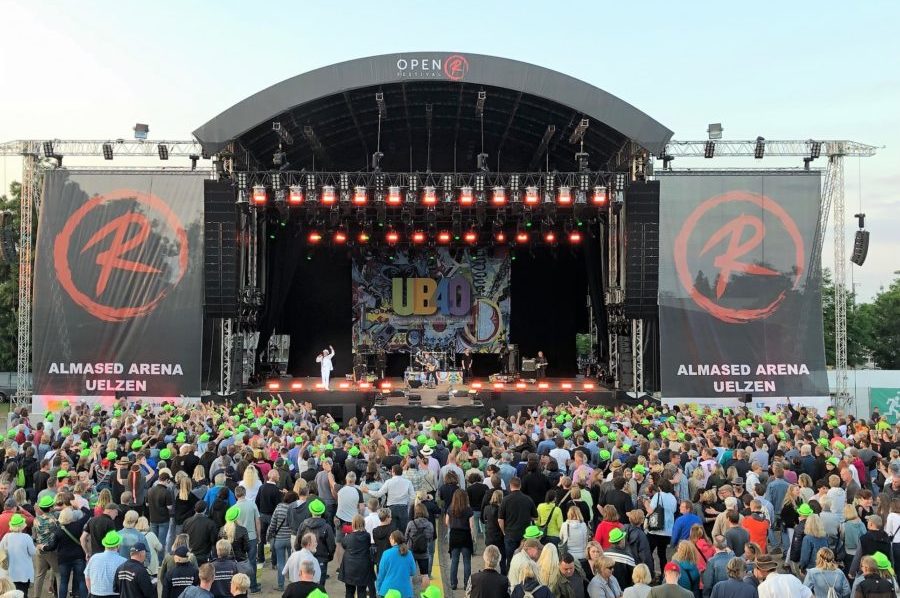 Open R Festival 2019 © Protones
Festivalveranstalter Ulrich Gustävel von der Jabelmann Veranstaltungshalle hat für die Umsetzung des elften Open R Festival in Uelzen sein Vertrauen erneut in Protones gesetzt. Der renommierte Lüneburger Veranstaltungsdienstleister war mit der technischen Durchführung für das Festival beauftragt und hat die Gewerke Rigging, Beschallung, Beleuchtung und das intensive Stage-Management für das komplette Line-Up umgesetzt.
Seit 2008 veranstaltet Ulrich Gustävel das Open R Festival in der Almased Arena in Uelzen. Seit 2012 ist Almased als Hauptsponsor und Namensgeber der Arena mit dabei und seit 2016 hat sich das Musikfestival auf drei Veranstaltungstage ausgedehnt. Das Open R Festival fand in diesem Sommer vom 21. bis 23. Juni statt.

"Das Open R Festival hat sich im Veranstaltungskalender der Region Uelzen fest etabliert", kommentiert Ulrich Gustävel den wachsenden Veranstaltungserfolg. "Der Event ist ein fester Termin auf dem Kalender vieler Musikfans und weit über die Grenzen der Lüneburger Heide bekannt. Ich habe in der Vergangenheit bereits hochkarätige, internationale Musik-Acts gewinnen können. Auch das diesjährige Line-Up konnte sich mit Künstlern wie Paul Young, Kim Wilde, Nik Kershaw, Lea, Wincent Weiss, Max Giesinger, Mark Forster und The Kelly Family sehen lassen. Dafür müssen natürlich hochqualitative technische Voraussetzungen geschaffen werden. Aus diesem Grund arbeite ich gerne mit Unternehmen aus der Region getreu dem Motto "kurze Wege, kurze Entscheidungen". So hat mich Protones bereits 2018 mit seiner Kompetenz und Flexibilität als Full-Service Eventdienstleister überzeugt. Gemeinsam haben wir als Rahmen für das komplexe Line-Up die bestmögliche Umgebung geschaffen. Henning Helmich und sein Team haben als Bindeglied zwischen Veranstalter und Künstler alle Produktionswünsche der Show-Acts in der Bühnengestaltung problemlos gemeistert."
Das Besondere am Open R Festival in Uelzen ist, dass an drei Festivaltagen verschiedene Musik-Genres bedient werden. Am Freitag kamen mit "Back to Front" die Stars der 80er- und 90er Jahre auf die Bühne. Am Samstag interpretierten Künstler des deutschen Pop-Rock die bereits etablierte Reihe "Neue Töne" und am Sonntag gab es ein Wiedersehen mit der Kult-Familienband The Kelly Family. Mehr als 30.000 Menschen haben bis weit in den Sommerabend mitgerockt.
Die Vorbereitungen
Protones kümmert sich seit 2018 als technischer Full-Service Dienstleister um das Festival. Stefan Westermann, Projektleiter von der Jabelmann Veranstaltungshalle und Henning Helmich, technischer Leiter von Protones LIVE, waren die planenden Köpfe der technischen Seite des Festivals. Gemeinsam mit seinem Team von technischen Planern, könnte Henning Helmich alle Gewerke effektiv im Vorfeld designen, planen und organisatorisch bestmöglich auf den Event vorbereiten.
"Die ersten Gespräche fanden nach dem Open R Festival 2018 statt. Danach ging es ab Februar/März 2019 weiter und wurde immer komplexer und konkreter bis kurz vor der Veranstaltung", beschreibt Henning Helmich den Ablauf. "Gerade bei Festivals wie dem OPEN R in Uelzen, bei dem sich hochkarätige Acts in einem knappen Umbauzeitfenster auf der Bühne präsentieren, muss alles genau vorbereitet sein. Mit Stefan Westermann und seinem Team konnten wir Hand in Hand im Vorfeld rund um die Uhr zusammenarbeiten, um allen Wünschen der Acts gerecht zu werden. Das Ziel war es, die jeweiligen Konzepte, eigene Designs und Festival-Material in Einklang zu bekommen, so dass der Künstler SEINE Show spielen konnte und die Emotionen in das Publikum tragen konnte. Um dies alles zusammenzufassen, war die Vorbereitungsphase sehr intensiv. Nicht nur die technischen und künstlerischen Vorgaben mussten geplant werden, auch das Zeitmanagement spielte eine sehr große Rolle. Dies betraf unter anderem auch die komplett unterschiedlichen Grundlagen. Unter den Acts gab es viele Vollproduktionen, für deren Material, Pulte, Infrastruktur und Personal die gewohnte und nötige Umgebung geschafft werden musste. Gerade das Licht- und Videodesign war je Künstler und Band sehr unterschiedlich und musste in kürzester Zeit angepasst werden. Zudem war uns die Betreuung der mitreisenden Crew als technischer Dienstleister sowie als Kollegen ein großes Anliegen. Man kennt sich und wir freuen uns, wenn man sich auf unseren Bühnen wohl fühlt. Somit lief vieles Hand in Hand, gut vorgeplant mit guter Stimmung."
Henning Helmich fährt fort: "Um dafür die räumlichen Grundlagen zu schaffen, haben wir unter anderem die Bühne so clean wie möglich gehalten. Dies bedeutet, dass Amping, Dimmer etc. einen wetterfesten Platz unter der Bühne bekommen haben. Die Übergänge und Storage-Bereiche wurden klar gekennzeichnet, und nachts wurde die Bühnenfläche für den ersten Act am kommenden Morgen vorbereitet. Das Stagemanagement war somit eindeutig der ambitionierteste Teil dieses Projektes."
Die Protones Grundausstattung für eine moderne ausgewogene Beschallung der Publikumsfläche vor der Almased-Bühne sowie das ridertaugliche Lichtequipment aus Washlights, Spotlights und Flutern in der Dachkonstruktion haben alle Künstler genutzt.
Die Beschallung
"Für das Open R Festival in Uelzen haben wir ein umfangreiches L-Acoustics System bestehend aus K2, KIVAII, Kara, K1-SB und KS28 designed", beschreibt Henning Helmich die Beschallungslösung. "In der Front-PA haben wir zwei Line-Arrays à 12 L-Acoustics K2 Lautsprechersysteme mit jeweils 4 L-Acoustics K1 SB Subs als Flugbässe rechts und links der Bühne kombiniert. Eine weitere Tieftonunterstützung lieferten 24 KS28 Subwoofer, die wir am Boden über die gesamte Bühnenbreite als Bass-Array platziert haben. Das Nahfeld haben wir mit 12 L-Acoustics KIVA II Frontfill mit ausreichendem Direktschall versorgt. Die Side-PA zur Beschallung der Tribünenflächen bestand aus 2 x 6 L-Acoustics Kara Lautsprechern. Als Systemcontrolling und Festival-Matrix kamen Lake-Prozessoren zum Einsatz. Das Ziel war stets das Gleiche: Es sollte eine optimale, homogene Beschallung der Publikumsfläche erzielt werden, damit alle Gäste das gleiche Klangerlebnis haben."
Die Konsole am FoH
"Um dieses System zu bespielen, setzten wir auch am FoH auf international anerkannte und bewährte Pulte. Als Festival-FoH Pult diente eine DiGiCo SD12 mit 32Bit SD-Rack auf der Bühne. Für uns war es wichtig, ein international akzeptiertes Pult mit intuitiver Bedienoberfläche zur Verfügung zu stellen, dass von jedem Tontechniker akzeptiert ist", erklärt Henning Helmich.
"Protones als DiGiCo-Norddeutschland Partner für Verleih und Service, setzt voll und ganz auf diese hochklassigen Pulte. Wir wissen, dass jeder Toningenieur darauf eine eindrucksvolle Show mischen kann und dabei auch noch Spaß hat. Die Bandbreite an Features dieser Konsolen hat nicht nur uns, sondern auch jeden Gastmischer überzeugt. Zudem waren DiGiCo-Konsolen "first choice" für einige Headliner dieses Festivals."
Das Licht
"Wie bereits erwähnt, waren die Anforderungen an das Lichtsetup sehr unterschiedlich" führt Henning Helmich fort. "Um diese unterschiedlichen Designs ohne Umbauten um Dach unter einen Nenner zu bekommen, haben meine Kollegen Niklas Martin und Alex Schmidt, ein umfangreiches Lichtdesign entwickelt, dass allen Wünschen gerecht wurde. Zudem sollte dies kompatibel mit den mitgebrachten Floorsets und Videowalls sein. Dachlasten, Positionierung und Steuerung des Systems wurde bis ins Detail mit den einzelnen Lichtdesignern durchgesprochen. Am Ende entstand dadurch ein Gemeinschaftswerk der Produktionen und Protones. Wie wir finden, in einer sehr schönen Art."
"Um dies zu realisieren, haben wir uns mit den Produktionen für folgendes Material entschieden," erläutert Henning Helmich: "26 Martin Professional Mac Viper Performance, von Robe Lighting 16 Spiider und 38 BMFL, 36 GLP GDC1 Strobes und 12 SGM P6 als Washer am Bühnenboden. Somit war die kreative Grundlage geschaffen, um im Zusammenspiel mit dem mitreisenden Material der Produktionen ein ideales Bühnenlichtbild zu erreichen."
Weitere Informationen: