Nook Schoenfelds Stories (2): Saure Security, verwüstete Venue
"Ich schreibe mir die Nummer auf. Und wie ein Idiot wähle ich sie."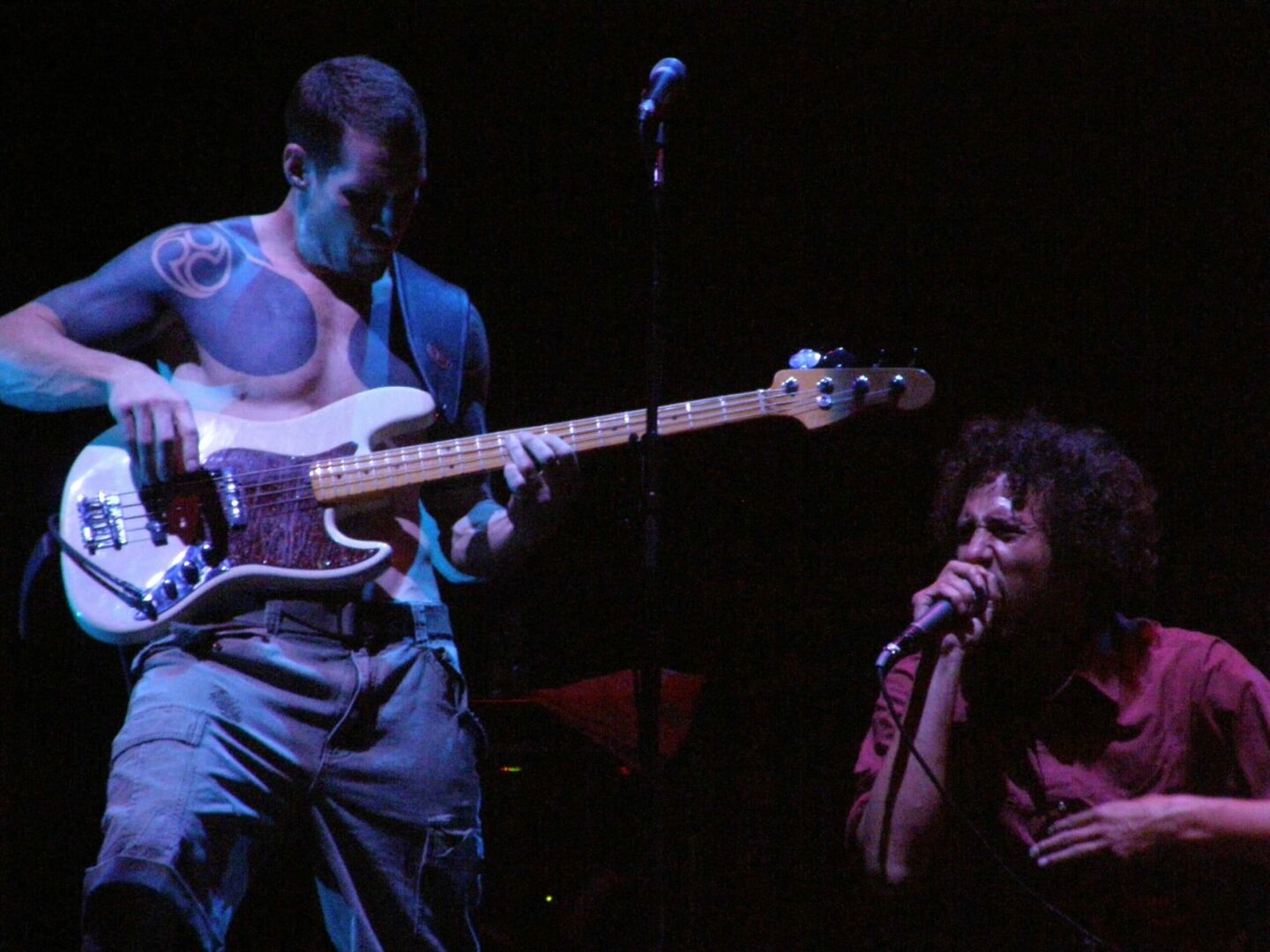 Sind inzwischen längst erfolgreicher als die Protagonisten dieser Geschichte: Rage against the machine beim Vegoose Festival in Las Vegas 2007. Quelle: https://bit.ly/3CJtg4S
Nook Schoenfeld ist Lichtdesigner und Geschichtenerzähler mit Erfahrung. Nook ist jedoch kein Toningenieur und schon gar kein Produktionsleiter. Dennoch hat er genau diesen Job angenommen, um einem Freund auszuhelfen und eine junge Band 30 Tage bei ihrer Tour zu begleiten.

Der Name auf dem Display meines Telefons ist ein bekannter Produktionsleiter. Wenn dieser Typ anruft, bietet er mir normalerweise einen Gig an. Also greife Ich sofort zu.

– Haaaaaallo mein Freund!
– Nook, kannst mir einen Gefallen tun?
– Was hast du?
– Irgendeine junge Band, ein Freund von mir hat die gebucht und sie brauchen einen Produktionsleiter bzw. Tontechniker.
– Für wie lange?
– Kurz: etwa 30 Tage.
Ich hatte seit acht Jahren keinen Ton gemischt. Ich war noch nie Produktionsleiter gewesen. Ich wollte keinen dieser Jobs wirklich haben.
– Ich habe große Pläne mit Dir, Nook.
– Ist das so?
– Ich glaube, du wärst ein großartiger Produktionsleiter.
– Danke, aber ich bin ein besserer Lichtdesigner und Crew Chief.
– Kannst du mir den Gefallen tun – es ist nur ein Monat. Sieh es als Training an.
– Wer ist die Band?
– Irgendein weißer, irischer Rap-Act aus LA.
– Ich habe noch nie eine Clubtour gemacht.
– Hör zu, ich weiß, dass du diesen Monat frei hast. Tu mir einfach einen Gefallen, ruf diesen Typen an und nimm den Gig. Ich werde dir was schuldig sein.
Ich schreibe mir die Nummer auf. Und wie ein Idiot wähle ich sie.
Die Band und der Newbie
Ich fliege hin, um die Band zu treffen – um zu sehen, ob sie mich "mögen". Ich betrete das Büro in Santa Monica, wo ich zwei ziemlich ungehobelte Schläger mit herunterhängenden Hosen treffe, die um den Schreibtisch eines Managers herumwandern, von dem ich weder damals noch später etwas gehört habe. Sie können nicht stillsitzen und laufen durch den Raum wie Tiger in einem Käfig, während sie mich ausfragen, mit wem ich schon gearbeitet hätte. Nach fünf Minuten teilen sie dem Manager mit, dass ich "genüge", und verlassen, ohne ein weiteres Wort mit mir zu wechseln, das Büro.
Eine Vereinbarung wurde getroffen. Eine Pauschale von 10.000 Dollar für einen Monat, um die Produktion auf einer Bustour zu betreuen. Ich emaile dem Manager meine wöchentlichen Rechnungen von meinem Wohnsitz in Lake Tahoe aus, dann miete ich vier Intellibeams von meinem Freund Grinder bei Stagecraft und fahre sie in einem Laster nach Los Angeles.
Ich soll einen Tag lang mit der Band proben und ein wenig Audio auf dem hauseigenen System in Dirks Proberaum bei Schubert Sound mischen, um ein Gefühl dafür zu bekommen wie diese Nummer live klingt. Dann werde ich ein paar Lichtstimmungen programmieren. Danach muss ich das Band-Equipment, Bühnen-Klunker und den obligatorischen besten Freund abholen, der den Ryder Truck fährt, das Equipment aufbaut und die Lichter bedient, die ich für ihn programmiere.
Ich kann mich an den Namen dieses Freundes genauso wenig erinnern, wie an die beiden jungen Männer, die in der Band gesungen haben. Er versuchte sein Bestes, aber er war dann doch bloß der Lakai der Band. Ein 18-jähriger Schulabbrecher, der nichts anderes mit seinem Leben anzufangen wusste, als mit uns auf Tour zu gehen. Im Rahmen dieser Erzählung soll er den Namen Newbie tragen.
Was sind schon 30 Tage?
Wir machen uns also auf den Weg quer durchs Land, um in Florida loszulegen. Ich halte an einer Tankstelle um zu tanken. Ich bitte Newbie, den Tank zu füllen, während ich ein paar Getränke und Knabbereien besorge. Als ich rauskomme, ist der Tank halb voll. Er pumpt unaufhörlich Diesel in unseren bleifreien Tank. Ich unterbreche seine Arbeit durch den gekonnten Einsatz von mehreren Kraftausdrücken, packe den Griff und stelle den Auslauf zurück. Der Rest des Tanks wird mit Super gefüllt und wir verlassen Kalifornien in unserem würgenden und rauchenden Ryder-Mietfahrzeug.
Der erste Gig war in Florida auf einer Open-Air Bühne in Orlando. Zu meiner Überraschung ist der Promoter Ray Steinem, jemand, den ich von anderen Gigs kannte. Nachdem wir in Erinnerungen an vergangene Touren geschwelgt hatten, verlief das Gespräch in etwa so:
– Also Nook, wie lange kennst du die Jungs schon?
– Erster Gig.
– Du hast dir ihr Album angehört? Nicht besonders beeindruckend.
– Ray, sie mögen eine Eintagsfliege sein, aber sie haben eine Hitsingle.
– Ich sag dir was, Nook – du solltest dich auf die Vorband konzentrieren und diese Angeber vergessen.
– Wieso das?
– Deine Jungs sind ein One-Hit-Wonder. Diese andere Band hat gerade ihre erste LP veröffentlicht. Es ist der Hammer, wirklich mal was ganz Neues.
– Wirklich?
- Ja. Die sind richtig heavy. Nennen sich Rage Against the Machine.
Nachdem ich mein Licht und meine DJ-Anlage aufgebaut habe, fährt ein weißer Lieferwagen vor. Bobby Schneider, ein Freund von früher, steigt aus. Er arbeitet für Rage als Tourmanager auf ihrer allerersten Tour. Neben ihm steht der junge Joel Lonky, der die Band am FoH abmischt. Wir kommen ins Gespräch und ich bitte ihn um Hilfe beim Einrichten des Mischpults für die beiden Mikrofone und den Stereo-DJ-Mix.
Er hilft mir gerne, denn ich kann weder eine PA einstellen, noch bin ich als Produktionsleiter qualifiziert. Aber ich bin mit der Gabe des Quatschens gesegnet. Also frage ich Bobby nach Details, wie ich diesen Job denn eigentlich machen soll. Er gibt mir ein paar gute Ratschläge, die in dem Satz gipfeln: "Du solltest zurück zur Beleuchtung gehen." Er hatte natürlich recht, aber ich hatte einem Freund ein Versprechen gegeben… und was sind schon 30 Tage?
Nun ja, eine Ewigkeit, wie es schien.
Tausche Lichtshow gegen FoH-Sound
Ich frage Joel, ob sie einen Beleuchter haben und er gibt zu, dass sie keinen haben. Nun, was hältst du davon: ich werde gerne eine tolle Lichtshow für deine Band machen, wenn du mir hilfst, diese Rap-Band jeden Abend aufzubauen und den Soundcheck zu machen. Ich glaube, ich habe ihm ein paar Extra-Tagegelder als "Trinkgeld" zugeworfen, die eigentlich für die jeweiligen lokalen Hands reserviert waren.
Eine Sache, die mir das Leben erleichterte, war die Anwesenheit des Roadmanagers, der sich um die Jungs kümmern sollte. Er war vorher noch nie auf Tour gewesen, aber er war mein treues Bindeglied zwischen der Band und der Produktion. Und als solches lernte er immer mehr über Buchhaltung und Babysitting, die beiden Hauptbestandteile seines Jobs.
Mit diesen Jungs im Bus zu reisen, war ein bisschen anstrengend. Sie rauchten ständig Gras und tranken ziemlich viel, aber das störte mich gar nicht so sehr wie die geladenen Waffen, die sie ständig an sich trugen und für die sie keinen Waffenschein vorweisen konnten. Mir wurde langsam klar, dass ich mit ein paar ziemlich impulsiven Typen unterwegs war, die jeden Moment irgendwas dummes verzapfen konnten. Und das passte so gar nicht zu meiner entspannten Langhaar-Attitüde.
Mit den 24 Voreinstellungen auf dem Intellibeam-Controller, die Newbie (mein Lighting Director) im Takt ändern konnte, und den vier Audioeingängen, die ich perfekt abmischte, kamen wir eigentlich ganz gut voran – auch wenn ich wusste, dass ich das Schiff blindlings durch einen Sturm steuerte. Ein Sturm, der seinen Höhepunkt in Baltimore erreichte, auf halbem Weg durch die 30 Tage im Fegefeuer.
"Fickt euch ins Knie, wir spielen nicht."
Vorab möchte ich sagen, dass niemand, wirklich niemand, jemals nach Rage Against The Machine spielen sollte. Die Aufregung und der Rausch, in den sie das Publikum versetzen, kann ihnen keiner nachmachen. Und mein Haufen schon mal gar nicht.
Wir sollten in einem Club namens Ram's Head spielen, eine Venue in den Suburbs, von der ich zwar gehört, aber nie gesehen hatte. Ein zweistöckiges Gebäude mit umlaufendem Balkon und einer netten Hausanlage mit Ton und Licht. Rage hat gerade eine Stunde lang ein fulminantes Set gespielt (Lonky mischte jeden Abend einen brillanten Sound mit dem Equipment, das ihm zur Verfügung stand) und es ist Zeit für den Setwechsel.
Newbie besitzt einen laminierten Backstage-Pass wie jeder andere auch. Aber Newbie weigert sich, ein Hemd zu tragen und er mag es auch nicht, wenn der Ausweis an seiner Brust klebt. Also trägt er ihn lieber an seinem Gürtel, wo er für alle unbemerkt um seine Knie herum baumelt.
Der Setwechsel dauert über eine Stunde. Ich stehe am Mischpult und werde langsam ungeduldig. Die Band hält sich an der Kulisse bereit, aber Newbie hat es noch nicht zu seinem Posten geschafft. Dann sehe Ich, wie er aus dem Backstage hinausschießt – er rennt zum FoH, damit wir die Hausbeleuchtung ausschalten können.
Er ist auf halbem Weg durch die Menge, als er anhält, sich umdreht und wieder auf die Bühne zusteuert… um etwas zu holen, das er offenbar vergessen hat. Er versucht, ohne Ausweis an dem Security-Mann vorbeizukommen und wird zurechtgewiesen. Newbie denkt nicht nach, sondern schreit stattdessen ein paar Sekunden lang dummes Zeug direkt in das Gesicht von dem Security-Mann mit dem Körperbau eines antiken Schrankes… der ihn kurz darauf schlicht und einfach niederknüppelt. Ich meine sogar das Knacken seines Kiefers vom FOH zu hören, als die Security genau das tat, wofür sie bezahlt wird. Hier endet wohl die Tour von meinem jungen Lighting Director. Newbie wird für einige Zeit durch einen Strohhalm essen und höchstens mit dem Lichtschalter im Krankenhaus spielen können.
Ich eile zur Bühne und zeige dem Sicherheitsbeamten seinen Ausweis. Dann gehe ich zum Produktionsbüro um einen Krankenwagen zu rufen, während die Einheimischen den Fleischhaufen, der vor kurzem noch Lighting Director war, einsammeln und nach draußen bringen. Ich schaffe es zurück ans FoH, als die Band die Bühne betritt, um die PA für lediglich ein paar Sekunden anzumachen – damit die Band den 1.500 Zuschauern sagen kann, dass sie alle scheiße sind und die Security gerade ihren Freund verprügelt hat. "Fickt euch ins Knie, wir spielen nicht."
Die Venue hatte keine Chance
Das kommt so gut an, wie man es bei 1.500 aufgedrehten Kids erwarten kann. Ich eile hinter die Bühne und bringe mit der Hilfe von ein paar Jungs die DJ-Ausrüstung, die Bodenbeleuchtung und den Klunker in weniger als fünf Minuten zurück in den Ryder-Truck. Ich schicke den Merch-Typen und den Ryder in die nächste Stadt. Das Publikum hatte gerade Rage zugehört und sich sozusagen von ihnen inspirieren lassen. Es dauerte bloß diese fünf Minuten bis sie merkten, dass Elvis das Gebäude verlassen hatte und es keine Show geben wird.
Der Club musste die Zeche zahlen. Die gestackte PA wurde gevierteilt und der Menge zum Fraß vorgeworfen, herausgerissene Kabel inklusive. Bodenscheinwerfer wurden aus den Schaltkreisen gerissen und durch die Luft geschleudert. Beleuchtungskörper, die das Pech hatten, am Balkongeländer angebracht worden zu sein, wurden aus den 6 Metern Höhe auf den Boden geworfen, wo sie in Stücke zerbrachen. Die arme Venue hatte keine Chance.
Ich laufe zurück zum Bus, wo ich die drei Bandmitglieder und den Roadmanager zusammengekauert in der vorderen Lounge vorfinde, während draußen die Menge rapide wächst. Als ich den Bus betrete, werden die Waffen gezogen. Ich flippe irgendwie ein wenig aus aus und beschließe, dass ich einfach nach Hause will. Ich gehe zu meiner Koje und schnappe mir meine Tasche, ciao und aufwiedersehen. Ich muss die Polizei anrufen. Ich muss meinen Fahrer früh wecken und ihn hierher bestellen. Außerdem habe ich die Einnahmen der letzten paar Nächte an mir.
Flucht aus Baltimore
Ich gehe zurück in die Venue und rufe den Manager an, der bereits vom Club gehört hat und mich mindestens 20 Mal auf dem Pager angepiept hat.
– Habt ihr schon Geld für den Gig bekommen?Das ist sein Hauptanliegen.
– Nö, der Typ kann uns gerade nicht abrechnen, da wir gerade seinen Club verwüstet haben und außerdem nie auf der Bühne waren.
– Was wirst du tun?
– Nun, ich habe meine Tasche und etwas von deinem Geld. Am liebsten würde ich das der Band geben und sofort in ein Flugzeug nach Hause steigen.
– Nein, bitte nicht. Du musst den Fahrer dorthin bringen und die Band irgendwie aus der Stadt schaffen.
– Ich weiß nicht, Mann.
– Wir geben dir einen Bonus!
Ich nehme das Telefon für eine Sekunde vom Ohr, um nachzudenken.
– Nook, Nook…, bist du noch dran?
– Drei große Scheine.
– …Was?
– So viel brauche ich, um deine Jungs aus der Stadt zu bringen.
– Willst du mich verarschen?
– Ich verlange 3.000 Dollar Gefahrenzulage, wenn ich in diesen Bus steigen und mich um deine bewaffnete Schläger kümmern soll.
– Jetzt warte doch mal… die haben Waffen?
Die Polizisten helfen uns den Parkplatz zu verlassen. Die Band besteht darauf, ins Krankenhaus zu fahren, um nach ihrem Kumpel zu sehen. Wir fahren hin und stellen fest, dass er noch operiert wird. Die Rezeption fragt mich, wer für die Kosten aufkommt, da Newbie nicht versichert ist. Ich sage ihnen, sie sollen warten, ich lauf mal fix zum Bus und hol das Geld. Im Bus schnappe ich mir aber erstmal die Jungs, um zu besprechen, was wir tun sollten. Sie bestehen darauf, dass wir einen Ausreißer machen. Was wir auch tun und zu einer Raststätte fahren, um aufzutanken. War nicht meine Entscheidung. Ich habe Newbie nie wieder gesehen.
Nachdem wir in die Haltestelle eingefahren sind, will der Fahrer den Schaden am Bus begutachten und mit mir reden. Wir sind glimpflich davongekommen – der einzige Schaden sind ein paar Dellen in der Lackierung von Steinwürfen. Ich sage ihm, dass sich das Management darum kümmern wird. Dafür haben Sie ja die Kaution hinterlegt.
– Nun, das ist es ja, Nook.
– Was meinst du?
– Wir haben noch kein Geld überwiesen bekommen. Alles, was ich bekommen habe, ist mein Lohn und das Benzingeld. Mein Chef sagt, du musst jetzt für die ganze Tour bezahlen oder ich soll dich und deine Koffer hier lassen und nach Hause fahren.
Die Abrechnung
Um 5 Uhr morgens rufe ich erneut beim Management an, um weitere gute Nachrichten zu überbringen. Der Roadmanager bezahlt den Fahrer in bar.
Joel Lonky wird nun der Tonmischer für beide Bands und ich mache das Licht. Wir kommen zur letzten Show in LA. Ich entwerfe und programmiere ein schönes Design für die ausverkaufte Homecoming-Show. Es ist 18 Uhr, der Manager, den ich vor 30 Tagen kurz getroffen hatte, kommt vorbei um mich zu sehen und alles zu regeln. Der Roadmanager rechnet seinen Teil ab, dann überreiche ich ihm etwa 20.000 Dollar in bar, zusammen mit einem Schuhkarton mit aufgeschlüsselten Quittungen für alle Auftritte, die ich in den letzten 30 Tagen gestemmt habe. Er und sein Assistent zählen es aus. Er ist kurz angebunden.
– Nook, wo ist der Rest des Geldes?
– Wo ist mein Gehaltsscheck für die letzten 30 Tage? Ich habe meinen Job gemacht, aber es kam nichts mit der Post. Ich habe euch Rechnungen geschickt.
– Wir werden dir diese Woche einen Scheck ausstellen.
– Nee, das machen wir schön anders. Ich nehme meine 10.000 jetzt, zusammen mit den 3.000 Dollar Bonus aus Baltimore und erspare euch den Papierkrieg.
– Das kannst du nicht machen, wir haben einen Deal.
– Klar kann ich das.
Ich reiche ihm meine Rechnung, auf der "vollständig bezahlt" drauf steht.
– Du hast dich nicht an die Abmachung gehalten und mich nicht bezahlt. Und jetzt kannst du entweder die Polizei rufen und mich verhaften lassen, oder wir können heute Abend eine ausverkaufte Show machen. Deine Entscheidung.
– Weißt du, ich werde dich nie wieder für einen Gig engagieren.
– Versprochen?
Epilog: Manche Sachen vergesse ich lieber
Spulen wir fünf Jahre vor. Ich beleuchte eine lustige Rockband aus L.A., die ein paar Pop-Hits hat. Sie haben einer Co-Headline-Tour mit dem ehemaligen Sänger dieser elenden Band zugestimmt (sein Name entzieht sich mir bis heute), da er wohl wieder eine Hitsingle gelandet hat. Die beiden Bands einigen sich darauf, die Produktionskosten in der Mitte zu teilen und beide Bands von einem LD leiten zu lassen. Ich heuere Rosie Greenawalt als LD an.
Wir gehen in eine Previz-Suite, um mit der Programmierung zu beginnen, als ich einen Anruf von Sugar Rays Manager bekomme.
– Hey Nook, ich habe ein Problem.
– Was ist los?
- Der andere Act auf der Rechnung hält sich nicht mehr an die mündliche Vereinbarung, die Kosten für Licht und Ton zu teilen.
– OK. Ihr wollt immer noch das Licht und das Set?
– Klar, aber jetzt wollen wir nicht, dass sie irgendetwas davon benutzen. Und wir bezahlen Rosie, also soll er das Licht nicht anfassen, während die spielen!
Kein Problem. Rosie bekam von mir die Anweisung, die Eröffnungsnummer mit blauem Licht zu beleuchten und ein einzelnes Schlüssellicht auf der Bühne zu setzen. Keine Spots, kein bewegtes Licht, keine andere Farbe. Ein Hausmeister könnte ihm ein paar lokale Par-Washes geben, wenn das Band-Management ihn dafür zahlt. Einstellen und vergessen – sie werden nichts bekommen und es mögen.
Der wütende Mann ging jeden Abend allein mit einer Akustikgitarre hinaus und lullte die Teenager-Mädchen in schläfrige Trance. Wenn er mit seiner Hit-Single endete, klatschte das Publikum ihm die obligatorischen fünf Sekunden zu und verzichtete auf die Zugabe. Falls er es doch versuchte zurück auf die Bühne zu kommen, schaltete die Produktion das Saallicht aus, bevor er die Bühne betreten konnte. Die Band, wegen der all die Teenager-Mädchen eigentlich gekommen waren, bot hingegen eine großartige Pop-Show. Und genau wie Rage ihn fünf Jahre zuvor überschattet hatte, sorgte Sugar Ray jetzt dafür, dass er weiterhin in seiner dunklen, obskuren Ecke blieb. Bis heute kann ich mich nicht an seinen Namen erinnern; ich weigere mich sogar, ihn zu googeln. Am besten vergisst man ihn einfach.
Links: