Licht
vor 2 Monaten
Chauvet vertreibt ChamSys in Deutschland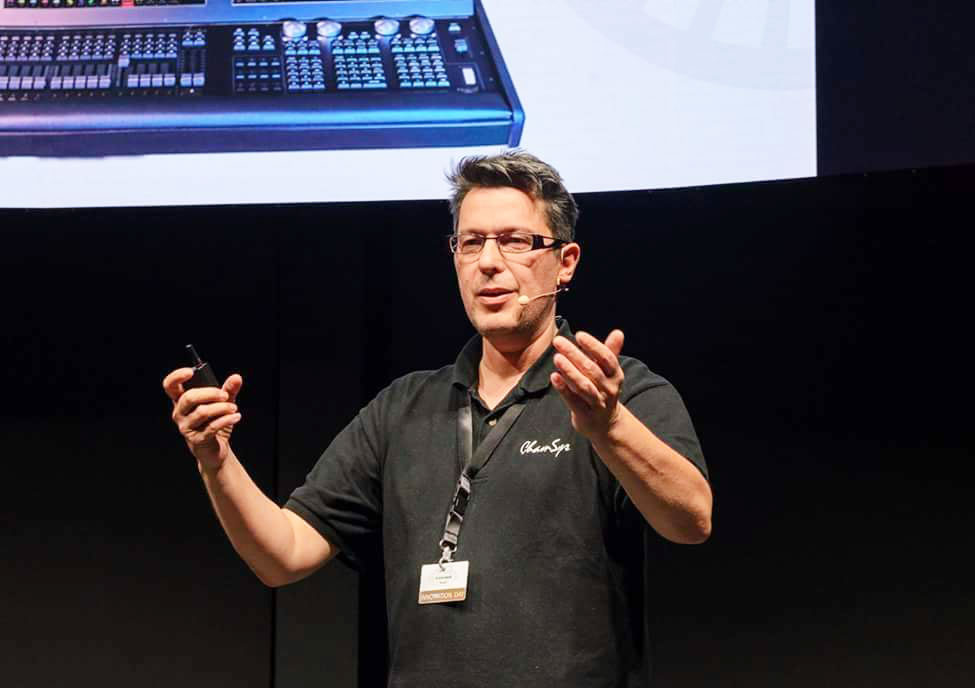 Frank Alofs ist neuer Business Development, Training and Support Manager für ChamSys in Deutschland.
Die Chauvet Germany GmbH, eine hundertprozentige Tochtergesellschaft der Muttergesellschaft von ChamSys, ist ab sofort für Verkauf und Service der gesamten ChamSys Produktlinie auf dem deutschen Markt verantwortlich.
In Verbindung mit diesem Schritt, und auf den bisherigen Erfolg der Produkte in Deutschland aufbauend, wurde Frank Alofs zum Business Development, Training and Support Manager für ChamSys in Deutschland ernannt. "Wir freuen uns ab sofort für alle ChamSys User der direkte Ansprechpartner zu sein und gleichzeitig auch Frank in unserem Team begrüßen zu dürfen", so Henning Oeker, Operations Manager bei Chauvet Deutschland.

Frank Alofs ist in der deutschsprachigen Community kein Unbekannter und bringt ein großes Maß an Erfahrung und Wissen für seine Position mit. In seiner neuen Rolle wird er insbesondere auch für die Durchführung von Trainings und Tutorials verantwortlich sein, die das gesamte Portfolio an ChamSys Produkten abdecken wird.
Ein Zuhause für die lebhafte Community
Informationen zu den einzelnen Trainings, sowie direkt buchbare Termine können ab sofort auf der deutschsprachigen ChamSys-Website, sowie auf der deutschsprachigen Facebook-Seite eingesehen werden. Letztere soll in Zukunft nicht nur als Sprachrohr für neue Produkte und Applikationen dienen, sondern auch der bereits lebhaften Community ein Zuhause bieten. Userspezifische Anliegen können so nicht nur mit anderen Nutzern, sondern auch direkt mit dem Team diskutiert werden. Die Interaktion zu den ChamSys Usern soll so intensiviert werden.
ChamSys soll einfacher und schneller verfügbar sein
"Durch die neuen und direkten Ressourcen, die wir nun in Deutschland vor Ort haben, können wir viel besser auf den immer größer werdenden Markt reagieren", sagt auch Chris Kennedy, Managing Director bei ChamSys. Auch mit dem großen Wissen, das Alofs über den deutschen Markt mitbringt, soll der Markt laut Kennedy weiter ausgebaut werden. Auch Frank Alofs sieht diesbezüglich viel Potential: "Ich war immer überzeugt von den ChamSys Produkten", sagt er. "Sie bieten praktische, realistische und vor allem benutzerfreundliche Lösungen für Programmierer und Lichtdesigner. Hier sind keinerlei Grenzen gesetzt."
Durch die neue Basis in Deutschland sollen ChamSys Produkte nun einfacher und schneller verfügbar sein. Angesichts der neuen Möglichkeiten ist dies eine vielversprechende Entwicklung, die auch den zahlreichen Nutzern im deutschen Markt neue Vorteile bieten wird.
Über ChamSys
ChamSys Ltd. mit Sitz in Großbritannien wurde 2003 von einer Gruppe von Designern und Produktentwicklern gegründet, die eine Beleuchtungskonsole mit größerer Flexibilität entwickeln wollten. Die MagicQ-Reihe des Unternehmens gilt als Industriestandard, der sich in weltweit bekannten Konzert-, Theater-, Rundfunk- und Clubanwendungen wiederfindet. ChamSys wurde 2017 von Chauvet & Sons LLC, einem führenden Anbieter von professionellen Scheinwerfern und Zubehör mit Hauptsitz in den USA, übernommen.
Links: