vor 1 Jahr
Pass, T-shirt, Akonto – Über unser wichtigstes Kleidungsstück
Falco Zanini über 50 Jahre Veranstaltungsindustrie - am Beispiel eines Kleidungsstückes.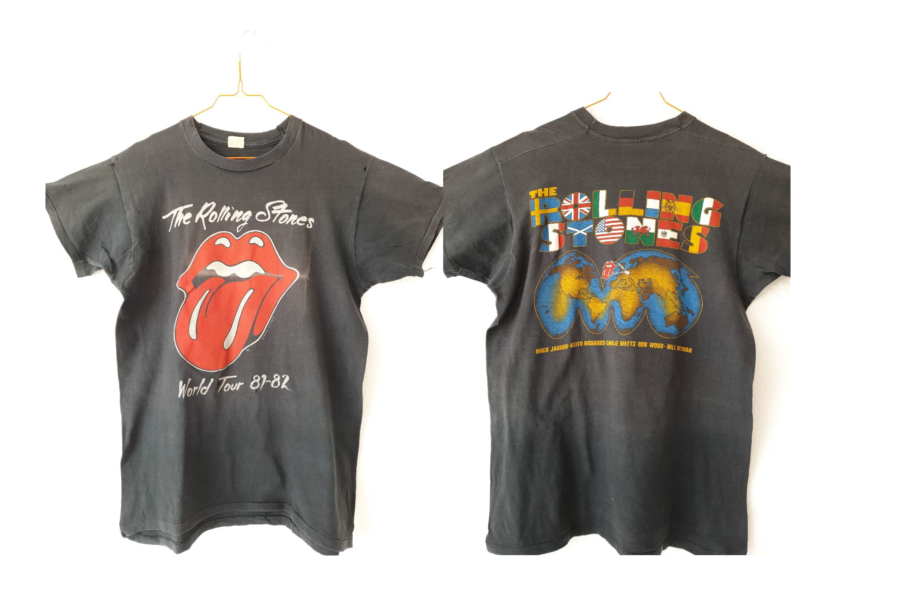 Das Rollling Stones Tour-Shirt von 1982
Falco Zanini erzählt die Geschichte des T-Shirts im Allgemeinen und des Crew-Shirts im Speziellen – und was uns dieses Kleidungsstück über 50 Jahre Veranstaltungsindustrie sagt.
"Pass, T-Shirt, Akonto" war früher ein geflügeltes Wort für die wichtigsten Dinge auf einem Job im Leben eines Roadies oder eines Crewmitglieds einer Band. In der Reihenfolge Zugang zum inneren Kreis, Kleidung als Uniform, bzw. Zugehörigkeit zur Bandcrew und natürlich etwas Bargeld, weil immer zuwenig Geld vorhanden war.

Doch warum ist das T-Shirt so wichtig und wird als zweites noch vor dem Geld genannt? Wo kommt das T-Shirt überhaupt her und wie lange gibt es Band-T-Shirts schon?
Vom Krieg auf die Titelseite des TIME-Magazine
Die Geschichte des T-Shirts beginnt 1898 im Spanisch-Amerikanischen Krieg und erst recht 1913, als die US Navy die sogenannten Crew-necked shirts an die Matrosen ausgab. Da es einfach zu waschen und bequem zu tragen war, zogen die Soldaten oft zu Arbeiten die Unformjacken aus und arbeiteten im T-Shirt.
Dadurch wurde dieses Kleidungsstück auch bei Arbeitern und Farmern populär, speziell während der Wirtschaftskrise, weil das T-Shirt billiger als jede andere Oberbekleidung war. Das TIME-Magazine druckte schließlich 1942 einen Matrosen im bedruckten T-Shirt auf die Titelseite.
Das Debüt des Bandshirts
Bei der Jugend der 50er erlangte das T-Shirt dann Weltruhm, als erst Marlon Brando in "Endstation Sehnsucht" und dann auch James Dean in "…denn sie wissen nicht, was sie tun" im weißen T-Shirt spielten. Das erste Rock T-Shirt wurde dann 1956 von einem Elvis Fan-Club herausgebracht und die Beatles brachten 1964 für ihre US-Tour ein spezielles T-Shirt für Ihre Fans heraus.
1967 produzierten schliesslich die damals sehr populären Monkees T-Shirts für ihre Tour. Damit war das Merchandising geboren und 1968 gründete Bill Graham, der legendäre Konzert-Promoter von der US-Westküste die Firma Winterland Productions als 'biggest, baddest, and coolest print shop' in San Francisco und wurde 'the first concert T-Shirt manufacturing company' überhaupt.
Graham druckte und vermarktete Shirts für Jefferson Airplane, The Grateful Dead, Big Brother and the Holding Company und andere Mega-Stars der damaligen Zeit. Im Jahr 1973 erschien schließlich das erste Shirt, das drei Bands auf enmal für ein Open-Air Festival promotete.
Ab Anfang der 70er begannen auch andere Bands mit dem Druck und Verkauf von Shirts, wie z.B. Led Zeppelin, AC/DC und KISS. Das offiziell erste spezielle Crew-shirt, das nicht für den öffentlichen Verkauf gedacht war, druckten 1970 die Allman Brothers, das ausschließlich für die mitreisende Familie, die Band selber und die Crew gedacht war.
Einzelstücke der Musikgeschichte
Meine ersten T-Shirts von Bands erhielt ich ab 1980, ich arbeitete damals als Stagehand für eine Disco und Veranstaltungshalle für 2.000 Besucher – mein Einstieg in die Branche. Die Shirts wurden damals oft als besondere Anerkennung für einen guten Auf- und Abbau an die lokale Crew verschenkt und diese Tradition hielt sich einige Jahre. Bis heute besitze ich ein T-Shirt der Rollling-Stones-Tour von 1982, dass ich nach dem legendären Konzert in Hannover bekam, wo Peter Maffay seinen Auftritt als Vorgruppe der Stones unter Tränen abbrach.
Später, in den 80ern, wurde die T-Shirt-Ausgabe zum bei der örtlichen Crew gern gesehenen Abschluß des Arbeitstages auf größeren Produktionen: Der Crewchef bekam von der Produktion T-Shirts und verteilte diese an seine Crew, nachdem die Trucktüren geschlossen waren, als Dankeschön des Stagemanagers.
Für die Tourcrews wiederum war es normal, dass sie oft zu Beginn einer Tour eine ganze Reihe an "Swag" erhielten. Dies waren mindestens T-Shirts, oft auch Jacken, Sweatshirts und je nach Sponsor auch manchmal Schuhe und anderes. Besonders Crew-freundliche Produktionen und Künstler ließen spezielle Designs erstellen, die nur die Road-Crew erhielt, so wie ganz zu Anfang der Geschichte in den 70ern.
Diese Designs bezogen sich manchmal auf einzelne Tourabschnitte, auf einzelne Festivals oder ganz besondere Herausforderungen, die gemeinsam erlitten und gemeistert wurden. So besitze ich noch ein Shirt von 1989, das im Rahmen des "Moscow Music Peace Festival" für alle Teilnehmer des exclusiven Band- und Crew-Barbecues im Gorki Park ausgegeben wurde.
Das offizielle Crew-Shirt des Festivals (siehe Bild) zog übrigens den massiven Ärger der russischen Behörden auf sich, da auf der Front der US-Adler Hammer und Sichel in seinen Klauen hielt. Das fanden die Russen offenbar nicht so witzig.
Das Ende einer Ära
Ab den 90ern wurden die T-Shirts bei größeren Produktionen vermehrt benutzt, um die Stagehands, die einzelnen Gewerken zugeteilt waren, farblich zu kennzeichnen. Diese waren häufig nur mit dem Band- oder Tourlogo versehen und trugen manchmal auch zusätzliche Bezeichnungen, Sätze/Danksagungen oder Designs auf dem Rücken. Mit dem massiven Wachstum der Produktionsgrößen verbunden, stirbt die Tradition der geschenkten T-Shirts merklich aus.
Wurden in den 80ern für eine "große Produktion" 16 – 25 Hands für die zwei bis fünf Trucks benötigt, sind heute 100 bis 130 Aufbauhelfer für einen größeren Aufbau die Regel. So verzichten heute die meisten Tourneen auf die Geschenke an die örtliche Crew. Zur Kennzeichnung der Gewerke werden bevorzugt Kennzeichnungswesten ausgegeben – die nach Arbeitsende wieder zurückgegeben werden müssen.
Ein weiterer Grund für das Aussterben der spezialisierten Crew-Shirts ist sich auch darain zu suchen, dass diese immer häufiger ihren Weg in die Online-Verkaufsplattfomen finden und für mehr oder weniger Geld dem gewöhnlichen Fan angeboten werden.
So sieht auch der wohlmeinendste Künstler keinen Anlass mehr, sich besondere Mühe zu geben, wenn das Geschenk, das als Anerkennung gedacht war, keine Wertschätzung beim Empfänger mehr genießt.
Damit geht leider ein bedeutender Teil unserer Branchenkultur nach 50 Jahren verloren. Ein Opfer der massiven Vermehrung und Vergrößerung der Branche, die nach 50 Jahren erwachsen geworden und eine echte Industrie, mit allem Guten und Schlechten geworden ist.
Weitere Informationen: