Licht
vor 3 Monaten
GLP X4 Bars und JDC1 im Einsatz bei 30 Seconds To Mars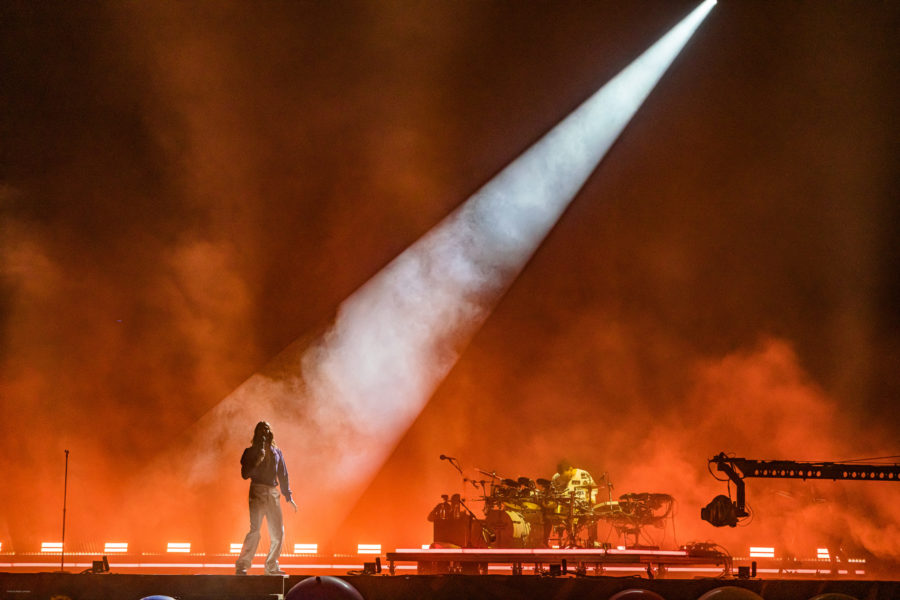 30 Seconds To Mars beim Deichbrand Festival © Ralph Larmann
Lichtdesigner Tom Campbell intensiviert den ausgefallenen Look von 30 Seconds To Mars mithilfe von GLP X4 Bars und JDC1.
30 Seconds to Mars, die regelmäßig auf Lösungen von GLP setzen, verbrachten den letzten Sommer damit, Festivals und Hallen in ganz Europa zu bespielen. Dazu gehörten auch zwei spezielle "Mars Island"-Shows auf einer privaten kroatischen Insel. Für die Beleuchtung und das einzigartige visuelle Design der Shows verantwortlich war Produktionsdesigner Tom Campbell von MIRRAD, der im Laufe der Jahre schon oft mit den preisgekrönten Scheinwerfern von GLP gearbeitet hat.

"Die ursprüngliche impression-Serie habe ich damals regelmäßig benutzt, und es ist großartig zu sehen, wie weit sich GLP seitdem entwickelt hat", sagt er.
Skalierbarer Licht-Käfig
Campbell stieß im vergangenen Mai zum technischen Team, nachdem er unerwartet von Bandleader, Sänger/Songwriter und Schauspieler Jared Leto kontaktiert worden war.
"Ich erhielt plötzlich einen Anruf von ihm wegen Beleuchtungsfragen, nachdem er bereits mit den Produktionsleitern, Pete Abbott und Ed Slaney, gesprochen hatte", erläutert Tom. Der Designer verstand schnell, dass die Band aufgrund früherer Erfahrungen mit den preisgekrönten GLP-Bars unbedingt wieder die X4 Bar 20 im Rigg haben wollte. Insgesamt spezifizierte er 52 dieser Geräte sowie 26 JDC1 Hybrid-Strobes in einem modularen Boden-Setup.
Die Beleuchtung folgte weitgehend den visuellen Vorgaben des Designs, wobei die vom Künstler James Turrell inspirierten Videoinhalte gleichzeitig als Lichtquelle dienten. "Jared bat um einige Mood-Boards, und als ich etwas von Turrell einfügte, der derzeit ziemlich angesagt ist, traf ich bei ihm einen Nerv", fügt der Designer hinzu.
Dominiert von LED-Röhren und jeder Menge Nebel, konstruierte Tom Campbell einen starken linearen "Käfig-Effekt" unter Verwendung der X4 Bar 20 von GLP. Die Produktion selbst war skalier- und steuerbar, je nachdem, ob es sich um eine Festival-Performance oder eine Indoor-Arena handelte.
Es gab 11 x 2 Meter große Dollies auf Rollbrettern, die jeweils zwei X4 Bar 20 und ein Paar JDC1 Hybrid-Strobes beherbergten. Jeder Dolly entsprach dabei einem DMX-Universum. Die X4 Bar 20 schufen den Gitterkäfig aus Licht. "Sie wurden einzeln im 88-Kanal-Modus pixelgemappt, sodass wir auch einige subtilere Lichtebenen zur Verfügung stellen konnten", erklärt Tom. Auch auf den Laufstegen kamen die Bars zum Einsatz.
Die JDC1 hingegen wurden im normalen 23-Kanal-Modus betrieben, um große Farbblöcke zu erzeugen. "Aber wir schufen auch Silhouetten mit dem weißen Stroboskop, das den Farbblock durchstach – denn das ist es ja, was das JDC1 auszeichnet", sagt er.
Mit GLP in die Zukunft
Abschließend bestätigt der Lichtdesigner, dass beide GLP-Modelle "100% superb" waren. Und er fügt hinzu: "Obwohl wir Headliner waren, gab es nur einen örtlichen Lichttechniker auf der Bühne, sodass wir die Change-Overs effizient organisieren mussten, und die X4 Bar 20 haben uns dabei entscheidend geholfen."
Tom Campbell wurde von den Lichttechnikern Shaun Moore, Keith Parrott und David Peters unterstützt. Drew Best war für die Videoinhalte verantwortlich. Das Lichtequipment lieferte Liteup.
Mit Blick auf die Zukunft sagt Tom, dass er seiner Kreativität volle Freiheit lässt und einige GLP-Produkte der nächsten Generation schon mal für kommende Projekte im Laufe des Jahres vormerkt.
Weitere Informationen: