Licht
vor 5 Monaten
Elation DARTZ für die KISS "End of the Road" World Tour
Glühender Abschluss für die Rocklegende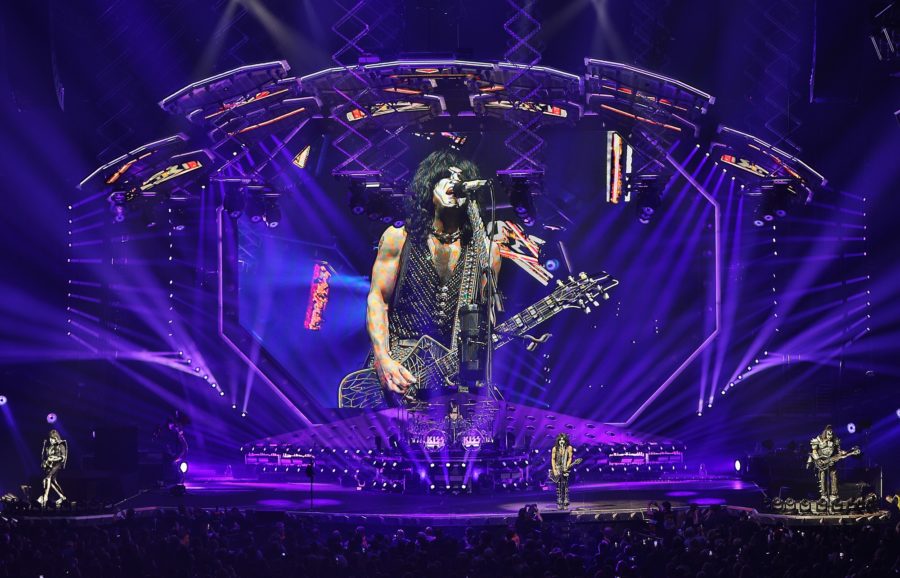 Letzte Tour der Kult-Band. © Todd Kaplan
Die legendären Rocker KISS starteten Ende Januar in Vancouver ihre Abschiedstour "End of the Road". Dabei nutzen sie eine Vielzahl von Elation DARTZ 360 Effekten als Key Visuals in der dynamischen, multisensorischen Show.
Mehr als 40 Jahre später zieht KISS immer noch ein Publikum auf der ganzen Welt an, mit ihren zahllosen Hits und einer unglaublich aufwändigen Live-Show. "Es ist eine einfache, "four-on-the-floor" Rock'n' Roll-Musik mit schweren Gitarrenriffs", so Produktionsdesignerin Sooner Routhier über die anhaltende Attraktivität der Musik.
"Was die Beleuchtung betrifft, so erfordert sie eine Old-School-Lichtshow mit einfachem Cueing, das die Musik akzentuiert, ohne zu sehr von ihr abzulenken." Routhier gestaltete die Show zusammen mit Robert Long, der seit über 20 Jahren in verschiedenen Rollen bei KISS tätig ist. Associate Designer/Show Director ist Ashley Zapar.

Das Ergebnis ist KISS at its best, mit einer Beleuchtung, die das zeitlose Bühnenspektakel und die kraftvollen Rocknummern der Band ergänzt. Das Setup wird von 19 beweglichen Videokapseln über der Bühne dominiert, die während der gesamten Show verschiedene Formen erzeugen, während mehrere Pantographen mit Strahlern und Stroboskopen einen industriellen Look erzeugen. "Unser Hauptziel bei der Beleuchtung war es, ein komplett konfigurierbares Lichtdesignpaket zu erstellen", erklärt Routhier und fügt hinzu, dass das Design einen "kleineren Scheinwerfer erforderte, der einen kraftvollen und schnellen Beam liefern sollte."
218 Elation Professional DARTZ 360
Die engabstrahlenden DARTZ 360 LED Moving Lights mit 3 Grad Öffnungswinkel erfüllen diese Anforderung mit Bravur, sodass die Produktionsdesigner ganze 218 Stück auf und über der Bühne verbauten. "Wir haben zwei Traversenaufbauten auf der rechten und linken Seite der Bühne platziert und mit DARTZ bestückt", erklärt Long. "Auch haben wir die DARTZ über den gesamten Upstage-Bereich und den Drumset-Riser montiert, um die Szenerie durch Beleuchtungselemente zu unterstützen. Sie verleihen dem Bühnenbild einen Tiefenwirkung und erweitern so das Gesamtbild."
KISS-Shows sind voller klassischer Momente und vielleicht ist keine ikonischer als Gene Simmons' Feuerspucker-Performance. Den DARTZ-Scheinwerfern kommt bei dieser Nummer die besondere Rolle der wild rotierenden, roten Polizeiwarnlichter zu. "Wir neigen sie in die Szenerie hinein und nutzen die kontinuierliche Schwenkbewegung der Leuchte, um den Effekt zu erzeugen", sagt die Designerin. "Sie machen genau den gleichen Effekt in den Traversenaufbauten, die die Videowand flankieren."
Lichtverleiher für die "End of the Road" Tour ist Christie Lites, die laut Robert Long schon immer einen erstklassigen Service geboten haben. "Die Beleuchtungscrew von KISS ist unglaublich und talentiert. Die Ausrüstung wird einwandfrei gewartet, und das obwohl sie täglich gegen Pyro kämpfen müssen!"
"End of the Road" ist die wohl allerletzte Tour von KISS. Die Konzerte ernten bereits glühende Rezensionen als eine weitere legendäre Rock'n'Roll Show von einer der dienstältesten Rockbands im Musikgeschäft. Die Tour führt durch nordamerikanische, europäische und australische Venues und wird bis Ende des Jahres andauern.
Weitere Informationen: