vor 8 Monaten
Lambda Light and Media Design setzen auf Chauvet Professional
Neue Beleuchtung für St. Hippolytus Kirche.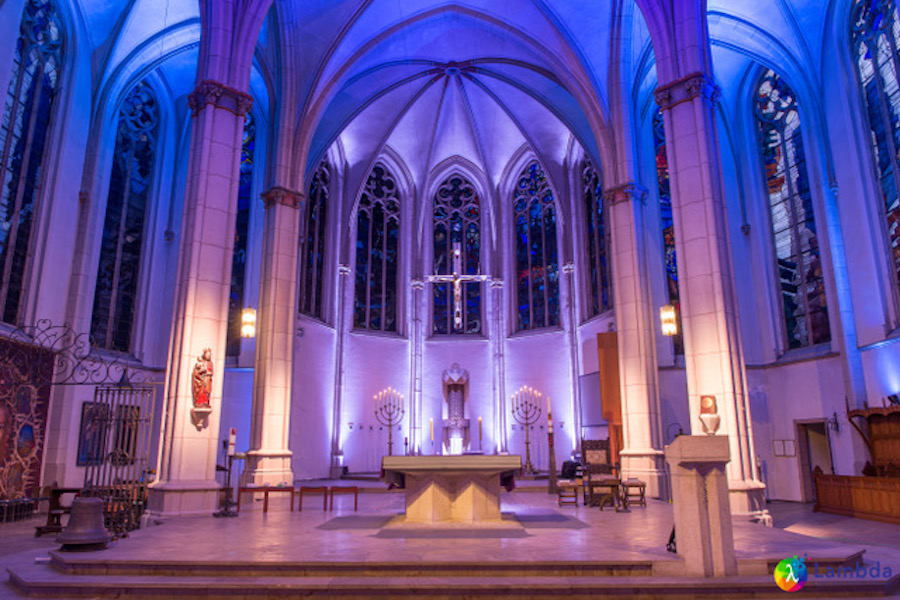 St. Hippolytus Kirche © Lambda Light and Media Design
Lambda Light and Media Design sorgt mit Chauvet Professional für neues Licht in der St. Hippolytus Kirche.
Nicht nur mit seinem 75 Meter hohen Turm stellt die St. Hippolytus Kirche in Gelsenkirchen ein Meisterwerk neugotischer Baukunst dar. Diejenigen, die das beeindruckende Bauwerk betreten, begegnen einem Innenraum, der in seiner Pracht mit dem Äußeren mithalten kann. Von Glaskunst an den Fenstern bis zur hoch aufragenden Jochdecke und den imposanten Säulen ist der Raum in der historischen Kirche mit 650 Sitzplätzen sowohl beeindruckend als auch gleichzeitig beruhigend.
Allein die Beleuchtung ist in die Jahre gekommen, wodurch ein neues System für die im Jahre 1898 erbaute Kirche von Nöten war. Für die gewünschte Expertise in diesem Bereich wurde Lambda Light and Media Design, unter der Leitung von Markus Lipphaus, hinzugezogen, der bei diesem Projekt auf LED-Technik der Marke Chauvet Professional vertraute. "Wir haben bereits einige Projekte für Gottesdienste und Feiern durchgeführt, sodass die Kirche mit unserer Arbeit vertraut war", erzählt Lipphaus. "Man war sich einig, dass das alte Beleuchtungssystem ersetzt werden musste und LED-Beleuchtung eine logische Wahl ist. Insbesondere wenn man die Energieeinsparung mit einberechnet, die durch so einen Umbau erreicht werden kann."
Richtiges Licht für ein Wahrzeichen
Lipphaus und sein Team hatten von Anfang an ein klares Ziel bei diesem Projekt. "Die Kirche ist ein Wahrzeichen. Daher war es für uns wichtig, die einzigartige Architektur der Kirche hervorzuheben und z.B. die imposante Decke indirekt auszuleuchten. Da sie bereits weiß war, war sie einfach perfekt für diese Art von Beleuchtung," berichtet er über die Anfänge des Projektes.
"Als nächstes wollten wir ganz bestimmte Stellen hervorheben, wie die Seite der Kirche mit den riesigen Fenstern", fuhr Lipphaus fort. "Auch die mittleren Säulen eignen sich hervorragend zum Aufleuchten. Mit dem NET-X II konnten wir sehr einfach Szenen für die verschiedenen Messen vorprogrammieren. Für kleine Konzerte oder andere Veranstaltungen können wir das System einfach über sACN steuern und individuell anpassen. Dies ermöglicht sehr unterschiedliche Arten von Lichteffekten, die dann perfekt für den jeweiligen Anlass zugeschnitten sind."
Chauvet im Einsatz
Das in der Kirche installierte Beleuchtungssetup verfügt neben dem Chauvet Professional NET-X II über 40 Leuchten der COLORado-Serie sowie 12 Ovation-Einheiten. Dazu gehören acht COLORado 1-Quad, sowie 24 COLORado 2-Solo- und acht COLORado 1-Solo, die in der Haupthalle verwendet werden. "Wir können uns überall auf den Zoom der COLORado-Leuchten verlassen, um die richtige Farbbalance zu erzielen", sagte Lipphaus. "An einigen Stellen passte der Abstrahlwinkel perfekt zum Abstand zur Wand. Daher habe ich aus Kostengründen hier eher auf die Quads anstatt auf die Solos gesetzt."
Einige der COLORado Solo-Leuchten wurden auch in Verbindung zweier Ovation C-805FC verwendet, um die Säulen und andere beeindruckende Merkmale, einschließlich der großen Orgel, hervorzuheben. Im Eingangsbereich installierte Lipphaus 10 Ovation FTD-55WW Fresnels inklusive Barndoors "Die warmweißen Fresnels machen einen sehr schönen Eindruck und beleuchten den gesamten Eingangsbereich in einem gleichmäßigen Licht", sagte Lipphaus. "Mit den Barndoors und dem Zoom konnte ich hier einige Highlights setzen, während andere Abschnitte etwas dezenter blieben, da sie aufgrund ihres Alters einfach nicht mehr ganz so gut aussehen."
"Aus Sicht der Beleuchtung unterscheidet sich eine alte Kirche in vielerlei Hinsicht", resümiert Lipphaus. "Die alte Struktur erfordert viel vorrausschauendes Denken sowie eine durchdachte Planung. Die elektrotechnische Situation musste zuerst von einem Elektriker analysiert und einige Details mussten renoviert werden, um die dimmbare LED-Beleuchtung möglich zu machen. Bei der Struktur der Kirche sollte die Installation auch sehr subtil gehalten werden, so dass das die Lampen selbst nicht sofort ins Auge fallen, deren Licht jedoch schon. Auch die Lautstärke der Fixtures war natürlich ein Thema und alle Lampen mussten IP65 zertifiziert sein, da wir es hier naturgemäß mit einer feuchten und alten Struktur zu tun haben."
Bewusst über die Herausforderungen, die ein derartiges Gebäude mit sich ziehen, haben die Verantwortlichen der St. Hippolytus Kirche mit Lambda Light and Media Design und Markus Lipphaus einen Partner gefunden, der mit seiner Expertise hier ein beeindruckendes Ergebnis erzielen konnte. Das Endresultat ist eine langfristige, dem Kundenwunsch individuell angepasste Lösung, die den Gästen der Kirche die beeindruckende Schönheit der Architektur aufzeigt und gleichzeitig inspirierend wirkt.
Weitere Informationen: