L-Acoustics L-ISA Immersive Hyperreal Sound-System im radialsystem Berlin
Zeitgenössische Kunst & moderne Sound-Technologie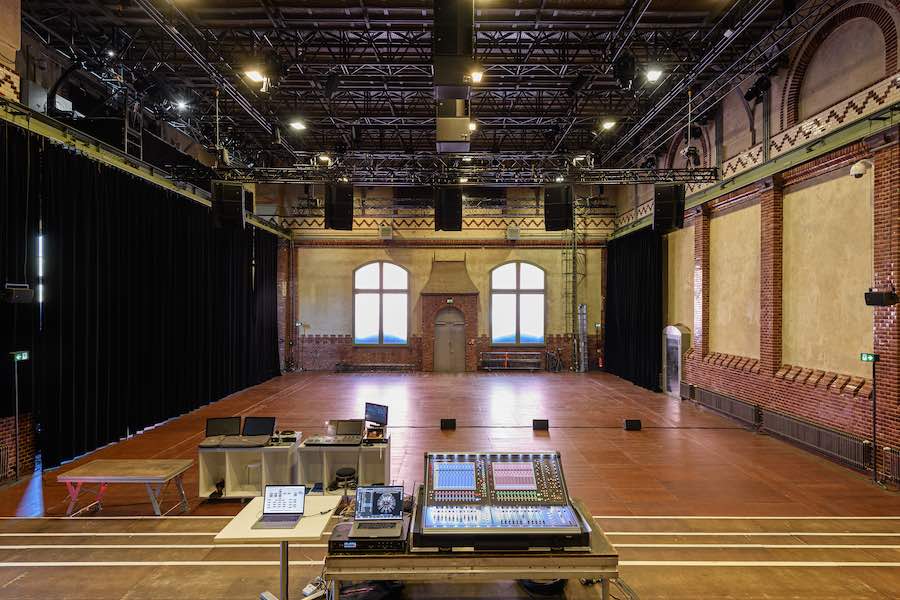 L-ISA Immersive Hyperreal Sound-System im radialsystem © Phil Dera
radialsystem in Berlin installiert als erster Veranstaltungsort in Deutschland ein L-Acoustics L-ISA Immersive Hyperreal Sound-System
Im radialsystem – einem ehemaligen Pumpwerk in Berlin-Friedrichshain direkt an der Spree – verwandeln seit 2006 raumgreifende Performances das Gebäude und seine Außenflächen in eine Bühne: Konzertabende in zwei großen Sälen überraschen in ungewöhnlichen Settings, kleinere Studios laden ein zum Erleben von Installationen und das offene Deck zu Listening Sessions in der Abendsonne mit Blick aufs Wasser. Als kreativer Produktions- und Veranstaltungsort für die Entwicklung neuer Programm- und Veranstaltungsformate im künstlerischen Bereich ist das radialsystem überdies Gastgeber für zahlreiche Konferenzen, Tagungen und Messen, die sich häufig ebenfalls mit Innovations- und Zukunftsthemen beschäftigen.

Aufgrund der Vielzahl an unterschiedlichen Veranstaltungen und dem damit verbundenen Qualitätsanspruch ist es Teil der "radialen DNA", sich permanent weiterzuentwickeln und im Hinblick auf Innovation herauszufordern: Aktuell wird das Haus nun als erster Veranstaltungsort in Deutschland auf ein festinstalliertes L-ISA Immersive Hyperreal Sound-System umgerüstet.
Installation auf Basis von A15-Arrays
Insgesamt verfügt das radialsystem über rund 2.500 m2 nutzbare Veranstaltungsfläche, verteilt auf fünf Etagen. Das L-ISA Immersive Hyperreal Sound-System wird im größten Raum, der "Halle", mit 600 m2 Fläche zum Einsatz kommen. Die ehemalige Maschinenhalle des Abwasserpumpwerks hat bis heute ihre historische Industriearchitektur erhalten und birgt mit ihren weit ausgreifenden Bogenfenstern sowie viel Stein und Beton eine Vielzahl an akustischen Herausforderungen.
Das L-ISA System trägt dabei dem breiten Spektrum an Veranstaltungen im radialsystem Rechnung – von Konzerten, Musiktheater und Tanzperformances über Klanginstallationen zeitgenössischer elektroakustischer Musik bis zu Veranstaltungen, bei denen die Sprache und der Dialog im Mittelpunkt stehen.
Gemeinsam mit Martin Rode, Head of Application Install für den DACH-Bereich, entschieden sich die Verantwortlichen im radialsystem für eine mobile Installation auf Basis von A15-Arrays, die sich schnell und einfach an zwei verschiedene Bühnengrößen anpassen lässt. Das Scene-System besteht aus fünf Arrays mit je 1x A15 Focus und 2x A15 Wide, ergänzt durch zwei geflogene Subwoofer-Arrays in Endfired-Konfiguration aus jeweils zwei KS21.
"Im Zusammenspiel mit den KS21-Subwoofern liefern die A15 die notwendigen Low-End-Reserven, um die Vielfalt an Veranstaltungen perfekt abzudecken", erläutert Martin Rode. "Zudem bieten die A15 durch das integrierte PANFLEX-System die Möglichkeit, die horizontale Abstrahlcharakteristik individuell anzupassen, so dass Seitenreflexionen aufgrund der Industriearchitektur minimiert werden." Als Frontfill-Systeme kommen fünf X8 entlang der Szenenfläche zum Einsatz, elf weitere X8 bilden das Surround-System entlang der Außen- und Rückwände. Abgerundet wird die L-ISA Installation von neun X8 Elevation-Systemen im Deckenbereich.
Innovative Beschallung mit L-ISA Hyperreal Sound-System
"Für mich ist L-ISA der Weg in die Zukunft der Beschallung", erläutert Carlo Grippa, freiberuflicher Tonmeister und Projektleiter für das L-ISA System im radialsystem. "Eine kreative, bestklingende und bedienerfreundliche Lösung, die sich nicht an einer musikalischen Richtung orientiert. Genau darin lag unsere zentrale Anforderung." Die erste Begegnung mit L-ISA hatte Carlo Grippa bereits vor einigen Jahren auf der Prolight + Sound in Frankfurt am Main – und war trotz seiner großen Erfahrung im Surround-Bereich sofort überrascht von der Klangtreue und den Möglichkeiten der L-ISA Immersive Hyperreal Sound-Technologie.
"Ich arbeite viel im experimentellen Bereich der zeitgenössischen Musik, oftmals in Kombination mit elektronischen Elementen. Aus diesem Grund hatte ich immer schon mit komplexen Surround-Systemen und -Mischungen zu tun und auch selbst bereits Systeme entworfen, die immersiv auf das Publikum wirken." Unmittelbar nach der Messe setzten sich Fabian Russ von Orchestronik und sein Kollege Grippa mit Sherif El Barbari, Director of L-ISA Labs, in Verbindung, um das System in der L-ISA Zentrale im Londoner Highgate im Rahmen einer ausführlichen Demovorführung auf Herz und Nieren zu testen.
Zeitgenössische Kunst trifft auf moderne Sound-Technologie
L-ISA und das radialsystem – eine vielversprechende und potente Kombination: "Bei uns finden sehr unterschiedliche Aufführungen musikalischer und darstellender Künste statt", erläutert Carlo Grippa. "Viel zeitgenössische Musik und Tanz, klassische Musik – oftmals in Verbindung mit klanggestaltender Tontechnik und Elektronik, Jazz, Pop, Events, Parties und vieles mehr. Alle Tontechniker*innen im radialsystem haben einen ausgeprägten kreativen Puls und wollen unseren Künstlerinnen und Künstlern zeigen, welches Soundpotential in ihren Werken steckt."
Für Grippa und sein Team ist es entscheidend, dem Publikum einen klaren, aufgeräumten und damit besseren Eindruck vom Geschehen auf der Bühne zu vermitteln. Gleichzeitig erhalten die Technikerinnen und Techniker am Mischpult eine breitere, leicht zugängliche Palette an Werkzeugen für einen erweiterten gestalterischen Spielraum: "Mit L-ISA können wir die musikalische Ebene immer wieder auf ein komplett neues Abbildungslevel heben. Damit ist weniger Effekthascherei im Sinne einer auditiven Schießbude gemeint, sondern ein subtiler, einhüllender und kreativer Einsatz."
Weitere Informationen: