Licht
vor 10 Monaten
Robe Scheinwerfer auf dem Lollapalooza Berlin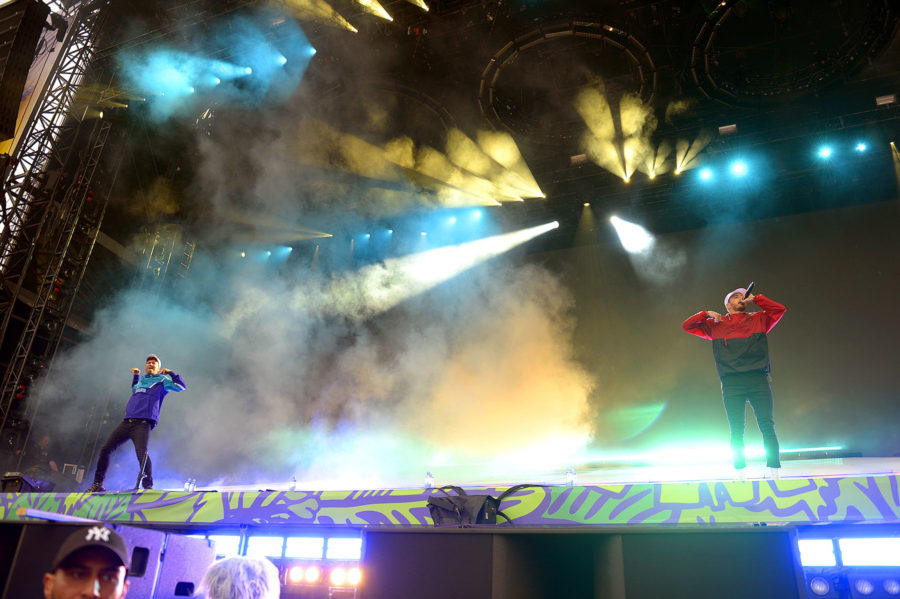 Marteria+Casper auf dem Lollapalooza Berlin © Stephan Kwiecinski
Moving Lights von Robe kamen auf drei Bühnen beim Lollapalooza Berlin zum Einsatz – darunter BMFL Spots, BMFL WashBeams, Spiiders und MegaPointes.
Das Lollapalooza Berlin kehrte im zweiten Jahr zum Olympiastadion zurück und beeindruckte erneut mit einem spektakulären Lineup: mit dabei waren Swedish House Mafia, UFO361, Kings of Leon, Rita Ora, Hozier, Twenty One Pilots, Billie Eilish und viele mehr.
Moving Lights von Robe waren auf dem gesamten Festival-Gelände vertreten durch die Ausstattung der in Deutschland ansässigen Firmen TSE AG (Main Stage North) und Black Box Music (Main Stage South), sowie Colour Sound Experiment aus dem Vereinigten Königreich, die für Licht und Ton auf der Dance-orientierten Perry´s Stage verantwortlich waren.
Main Stage North
Das Lichtdesign von Marco Hoch von der TSE AG erlaubte es den Künstlern ihr mitgebrachtes Setup schnell und problemlos im Dach unterzubringen und zusätzlich ein vielseitiges Allround-Paket an Scheinwerfern nutzen zu können. Das diesjährige Festival-Setup enthielt 90x Robe Moving Lights – eine Mischung aus BMFL Spots, BMFL WashBeams, Spiiders und MegaPointes. Dazu kamen Strobes und Blinder, plus reichlich Nebel und Haze. Gesteuert wurde das Ganze mit zwei grandMA2 Full-Size.
Die Robe Scheinwerfer wurden insbesondere aufgrund ihrer Rider-Tauglichkeit, ihrer Zuverlässigkeit und Robustheit als auch ihrer Funktionsvielfalt für dieses Festival ausgesucht. Marco ist ein großer Freund der Idee, Scheinwerfer eines Herstellers zu nutzen, um damit eine Kontinuität von Farben und Lichtqualität zu garantieren.
Ludwig Laudan, der LD / Operator der Main Stage North und technischer Support für Gast-LDs, erzählte, dass er bei TSE regelmäßig mit Robe arbeitet: "BMFLs sind aktuell einfach DIE Festival-Lampe. Ihr starker Output und ihre exzellenten Farben sind perfekt."
Das Lichtdesign bot den Gast-LDs BMFL Spots und Spiider-LED-WashBeams, sowie BMFL WashBeams als Frontlicht und Pointes auf der Bühne und im Rigg für Gegenlicht-Effekte. "Pointes bieten eine Vielzahl an Effekten, aber der "Grundmix" für unsere Festivals diesen Sommer waren BMFLs und Spiiders, da diese sowohl tagsüber als auch in der Nacht hell genug sind und auch der LED Wand trotzen können", sagte Ludwig Laudan.
Marcel Fery (Geschäftsführer TSE AG) findet es "beeindruckend", dass der Pointe immer noch zahlreich auf vielen Touring-Ridern zu finden ist. "Wir erwägen aufgrund von hoher Nachfrage noch zusätzliche Pointes zu kaufen. In Kombination mit dem MegaPointe – der mit seinem massiven Output perfekt für größere Veranstaltungen ist – sind sie einfach großartige Arbeitstiere."
Jeden Abend der zweitägigen Veranstaltung brachten die letzten drei bis vier Bands auf der Mainstage ihr eigenes zusätzliches Setup mit, wie zum Beispiel die Kings of Leon mit den 12 MegaPointes. Die TSE AG ihrerseits stattete zusätzlich die North Stage mit Beschallung und Beleuchtung aus und kümmerte sich außerdem um die Beschallung des Kidzapalooza und der Weingarten-Bühne.
Perry´s Stage
Beleuchtung und Video für die Dance/Electronic-Bühne wurden von der renommierten englishen Verleiherfirma Colour Sound Experiment geliefert, die ein großes Inventar an Robe Scheinwerfern besitzt. Das Team vor Ort entwarf ein Lichtdesign aus Robe Pointes, MegaPointes und Spiider, bei dem insgesamt 132 Robe Scheinwerfer eingesetzt wurden.
Perry´s Stage befand sich innerhalb des Olympiastadions selber, wo ein fantastisches Lineup den Ton angab – mit den Headlinern Underworld am Samstag und Martin Garrix am Sonntag, sowie großartigen Künstler wie Don Diablo, Scooter oder TV Noise. Martin Garrix brachte sein 'Anima' Festivaltour-Setup, mit 110x Robe Spikies und 4x SuperSpikies mit ins Rigg. Gesteuert wurde es von seinem Lichtdesigner Gabe Fraboni.
Künstler, die das House-Rigg nutzen, wurden von Dave Ross, Colour Sound´s FOH Lighting Director für das Event und dem Crew Chief Ricardo Lorenzini unterstützt.
Main Stage South & Alternative Stage
Black Box Music waren als Dienstleister für das Licht und den Ton an der Main Stage South zuständig. Im Bühnensetup kamen 40 Stück Robe BMFLs – 20x BMFL WashBeams und 20x BMFL Spots – zum Einsatz. Zusätzlich dazu waren 24x MegaPointes im Top-Rigg und weitere acht BMFL Spots als Floorlights verbaut. Der Operator war Markus Axmann.
BBM stellten außerdem Licht – gesteuert von Felix Wingerter – und Tontechnik für die Alternative Stage, wo 15x MegaPointes ihren Platz fanden. Das spannende und vielseitige Linup dieser Bühne reichte von dem deutschen Rapper Bausa über den britischen Singer-Songwriter Rex Orange County´s und seiner Mischung aus Jazz, Hip-Hop, Soul und Electronica bis zu dem talentierten US-Rapper und Singer-Songwriter 6LACK und den populären Australiern Parcels.
"Keeping Cool"
Am FOH der Main Stage North stand außerdem der allseits geschätzte "Robe Dual-Kühlschrank", mit kühlen Erfrischungen für die Crew, ihre Gäste und die Lichtdesigner sowie die Programmierer. Die Idee dazu kam von Julian von den Stemmen und Jens Langner von Robe Deutschland.
"Zeitpläne sind immer sehr eng auf Festivals und die Crew hat oft nur sehr wenig Zeit, um irgendwo anders zu sein als dem FOH. Jede Minute wird genutzt, um die Show unter Druck so perfekt wie möglich zu machen. Daher dachten wir, dass Erfrischungen die richtige Bereicherung für jedes FOH-Szenario wären.", erklärte Julian.
Die Kühlschränke haben spezielle Cases mit verbesserter Kühlung und Luftströmung und werden von TSE gelagert. Sie waren diesen Sommer auf verschiedenen, ausgewählten Festivals im Einsatz. Das ist Robes zusätzlicher Beitrag fürs Wohlbefinden der Crew.
TSEs Projektmanager Marcel Kuch u.a. zuständig für die Kühlschränke kommentiere: "Die Kühlschränke – bereitgestellt von Robe Deutschland – war eine großartige Idee. Sie sind wahnsinnig praktisch und unterstützen das FOH-Teamgefühl und die Arbeitsbedingungen! Die gesamte Crew schätze sie sehr und wir freuen uns darauf sie in der nächsten Saison wieder einzusetzen!"
Weitere Informationen: