vor 1 Jahr
QSC K Serie in NAMM TECnology Hall of Fame aufgenommen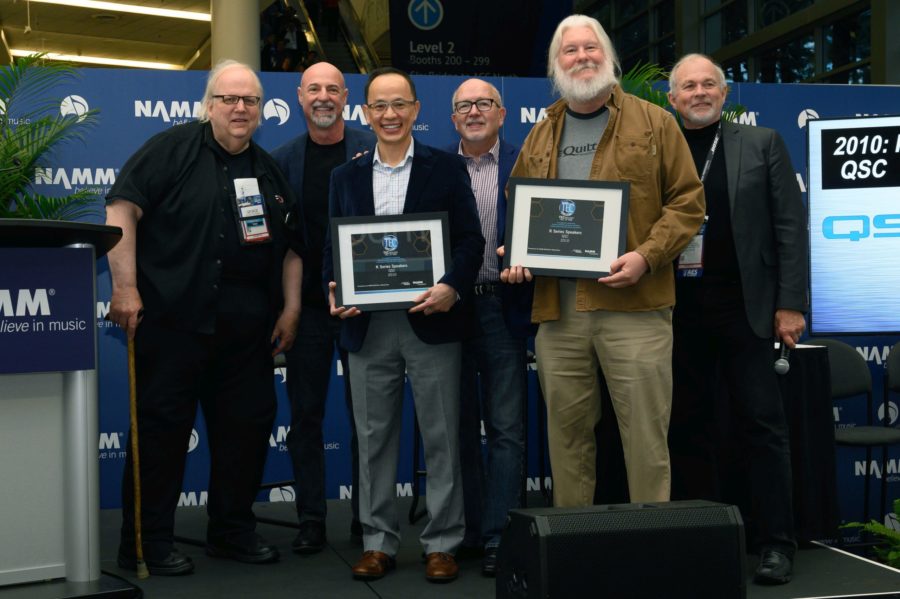 "Alle Innovationen, die in die TECnology Hall of Fame aufgenommen werden, haben einen entscheidenden Beitrag dazu geleistet, wie Klang erzeugt und reproduziert wird" - George Petersen, Gründer der TECnology Hall of Fame (zweiter von r.) © QSC
Im Rahmen der Winter NAMM 2020 in Anaheim, Kalifornien, wurden die Aktivlautsprecher der QSC K Serie in die TECnology Hall of Fame aufgenommen.
Die 2004 von George Petersen, einem ehemaligen Mix-Redakteur, gegründete TECnology Hall of Fame zeichnet Audioprodukte aus, die einen bedeutenden Beitrag zur technologischen Weiterentwicklung in den Bereichen Recording, Live Sound und Audiotechnik geleistet haben. Um sich für die Aufnahme zu qualifizieren, müssen Produkte mindestens zehn Jahre am Markt erhältlich gewesen sein.

Die 2009 vorgestellte QSC K Serie verfügte über eine präzise arbeitende Endstufe mit einer Leistung von 1.000 Watt und kombinierte einen 1,75-Zoll-Hochton-Kompressionstreiber mit einem 8-, 10- oder 12-Zoll-Tieftöner in einem ABS-Gehäuse. Der duale, aktive 12-Zoll-Subwoofer KSub vervollständigte die Serie. Die K Serie vereinte Klang in Studioqualität mit hoher Leistung und gleichmäßiger Abdeckung, bei einem zuvor unerreicht geringen Gewicht.
Anerkennung für technische Innovation
"Bei der Markteinführung der K Serie war QSC bereits als Hersteller von hochwertigen, leistungsstarken Endstufen und Prozessoren etabliert", sagt Ray van Straten, Senior Director Marketing bei QSC. "Doch erst mit Einführung der K Serie konnten wir zeigen, dass wir auch im Lautsprecher-Segment führend sind. Die Auszeichnung durch die NAMM und die TECnology Hall of Fame ist eine fantastische Anerkennung für die vielen talentierten Mitarbeiter und Teams bei QSC, die dieses Produkt auf den Markt gebracht haben, sowie für unsere Vertriebspartner und Kunden auf der ganzen Welt, die bis heute auf unsere Qualität und professionellen Lösungen vertrauen."
"Alle Innovationen, die in die TECnology Hall of Fame aufgenommen werden, haben einen entscheidenden Beitrag dazu geleistet, wie Klang erzeugt und reproduziert wird – auch Jahre nach ihrer Markteinführung", fügt George Petersen hinzu.
Weitere Informationen: