Licht-produktiv Messedebüt auf dem Inthega Theatermarkt 2019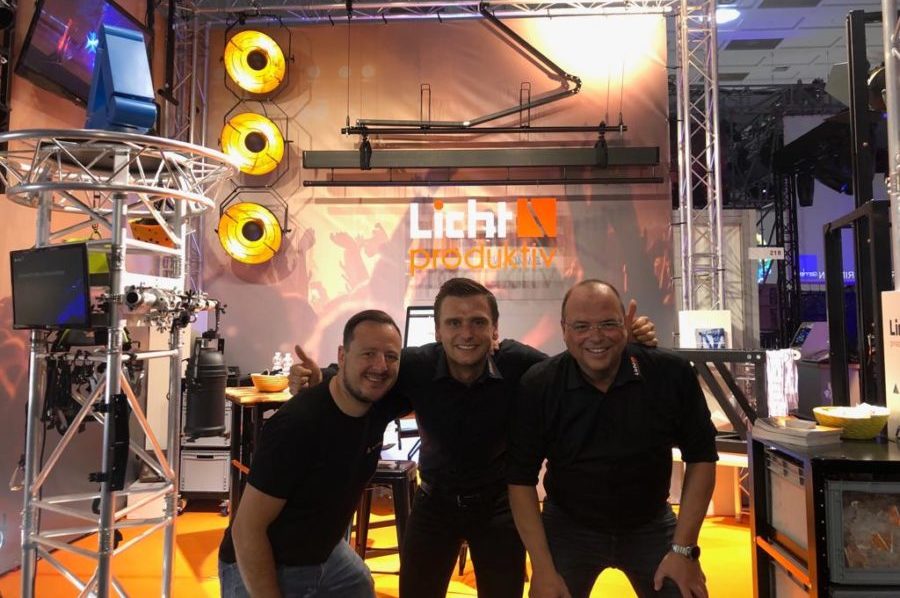 Licht-produktiv auf dem Inthega Theatermarkt 2019 © Licht-produktiv
Licht-produktiv feiert sein Messedebüt vom 14.-15.10.2019 auf dem Inthega Theatermarkt in Bielefeld.
Der technische Dienstleister und Distributor ist an Stand 5.7 zu finden.

Licht-produktiv präsentiert an 2 Messetagen unter anderem das Produktportfolio der Exklusivmarken Admiral Staging und Infinity Signature – Spirit of Robert Juliat. Besonders interessant dürften für alle Theater und Schauspielhäuser die Admiral Cable-Guide-Systeme sein. Die Snake ist ein innovatives, modular konfigurierbares Kabelführungssystem für die Veranstaltungsbranche.
Speziallösungen für Theater und Bühne
Vorgestellt wird darüber hinaus der Newcomer – Admiral Qwiqr -, zur sekundenschnellen Montage & Demontage von Scheinwerfern mit fester Position. Auch effektive Transport-, Lager- und Arbeitslösungen wie Lampen-Dollys, Sidelight-Tower und individuell anpassbare, modulare Meatracks für Auerboxen findet man am Stand. Im Bereich Illumination gilt die Infinity Signature Serie als DIE neue Alternative im Bereich Theater-, Studio- und Bühnenbeleuchtung. Kommende Woche kann man sich am Licht-produktiv Messestand vom neuen Signature Moving Light Profiler S601, bedient mit einer Infinity Chimp 300 G2, überzeugen. Alle Signature LED Fresnel Stufenlinsen und Profiler wurden explizit für den Theaterbereich mit CRI Werten von über 96 und dem – Spirit of Robert Juliat – entwickelt.
Komplettiert wird das Licht-produktiv Portfolio von Sennheiser (Authorised Premium Partner), Blackmagic und Prolyte Produkten. Und wie immer gilt der Leitsatz – SAFETY FIRST – somit dürfen Safetex und Edelrid, als Made in Germany Standard, nicht fehlen.
Anfassen, Testen, selbst überzeugen!
Besucher finden Licht-produktiv am Stand 5.7 in der Stadthalle Bielefeld. Die Experten von Licht-produktiv stehen an den Messetagen für Fachgespräche und alle Fragen zum Produktportfolio zur Verfügung.
Weitere Informationen: