Licht
vor 1 Monat
Church of the Highlands modernisiert mit GLP X4 Bars
"Eine der besten lichttechnischen Lösungen, die je entworfen wurden", glaubt Josh Holowicki von E2i.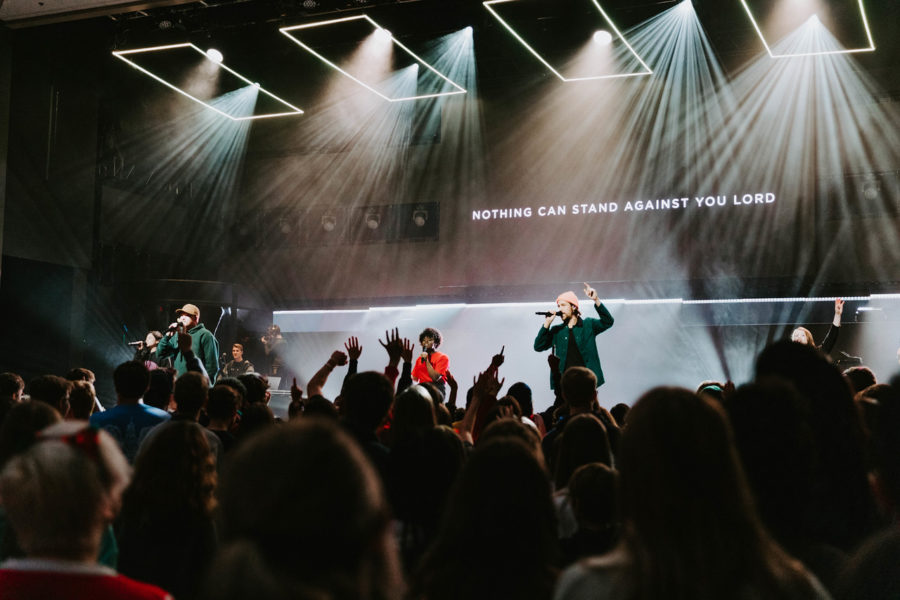 Die GLP X4 Bars "lassen sich in vielfältiger Weise einsetzen, um den Bühnenbildern den nötigen visuellen Pep zu verleihen", so Lichtdesigner Josh Holowicki. q
Josh Holowicki von E2i Design beschreibt die preisgekrönte X4 Bar 20 von GLP als "eine der großartigsten Scheinwerfer, die je entworfen wurden" und zögert nicht, sie zu einem wesentlichen Bestandteil einer großen technologischen Modernisierung des Broadcast-Campus der Church of the Highlands' in Grants Mill, Alabama, USA, zu machen.
Griffin McCravy, Broadcast Lighting Director, unterstützte seine Entscheidung für die vielseitige LED-Bar des deutschen Herstellers.

E2i arbeitet seit 2012 mit der Kirche zusammen und liefert licht- und videotechnische Lösungen für deren Sendecampus und dessen Erweiterungsbauten. Das jüngste Projekt wurde erst vor einem Jahr in Angriff genommen, da man entschlossen war, nur die allerbesten Scheinwerfer auszuwählen und damit die Flexibilität innerhalb des bereits errichteten Gotteshauses zu erhöhen. Der Kunde strebte eine technische Infrastruktur auf "Tournee-Niveau" an, weshalb die visuelle Aufwertung des Bühnenraumes ein spannender und andauernder Prozess sei.
"Letztlich wollten die Verantwortlichen der Geistlichkeit die Möglichkeit haben, ihr Bühnenbild ohne Einschränkungen beliebig umzugestalten", erläutert Josh Holowicki. "Dies würde praktisch unbegrenzte Möglichkeiten erlauben – und der Stil des von uns entworfenen Systems, das im Wesentlichen ein portables Rigg in einem festen Raum ist, lässt genau das zu", fährt er fort.
Die Church of the Highlands wird beschrieben als "ein einflussreicher Ort der Glaubensausübung, in dem der aktive Einsatz von Technologie gezielt genutzt wird, um den Gläubigen eine tiefgehende Erfahrung zu ermöglichen". Daher sei der Einsatz der neuesten Licht- und Videotechnik unerlässlich.
Mehr als nur ein Zuckerschlecken
In diesem Zusammenhang sind die X4 Bars 20 von GLP mehr als bloß "Eye Candy". "Sie erzeugen auf der Bühne ziemlich viel Druck", schwärmt Holowicki. "Im Moment haben wir 18 Stück auf der Bühne im Einsatz; in der Hoffnung, dass wir in Zukunft weitere Bars werden hinzufügen können. Die Bars lassen sich in vielfältiger Weise einsetzen, um den Bühnenbildern den nötigen visuellen Pep zu verleihen. Oft sind sie in die Video-Designs integriert, entweder als deren Erweiterung, aber auch als eigenständige Beleuchtungselemente, je nach Bedarf."
E2i vertraut seit vielen Jahren auf GLP. "Wir lieben die Produkte und nutzen GLP-Lösungen wann immer möglich. Dazu zählen Produkte der impression-Serie wie X4, X4S, X4 Bars und X4 Atom, sowie weitere Produkte aus dem Hause GLP.
"Was die X4 Bars betrifft, so sind diese eine Stufe höher anzusiedeln als alles andere, was auf dem Markt angeboten wird. Die Qualität der Konstruktion, die Lichtleistung und die Steuerungsmöglichkeiten sind unübertroffen. Das gesamte Konzept einer beweglichen LED-Bar ist einzigartig und eröffnet sehr innovative Ansätze für das Design. Es gibt nichts Vergleichbares zu einer Reihe von X4 Bars, die in einem Bühnenbild eine 'Lichtwand' bilden."
Die Lichttechnik wird an den meisten Tagen innerhalb des Gotteshauses eingesetzt, wobei der Schwerpunkt auf Wochenend-Gottesdiensten und geistlichen Sonderveranstaltungen liegt. Währenddessen ist das technische Team noch dabei, sich mit dem Potenzial der X4 Bars vertraut zu machen. "Der Institution offenbarten sich nach der Einführung des Systems unvorhergesehene Vorteile, die es ihnen nun ermöglichen, ihre Designkonzepte zu öffnen, um das hinzugewonnene Potenzial voll auszuschöpfen", schließt Josh Holowicki.