Adam Hall Group und BigCityBeats liefern den Soundtrack zur Night of Light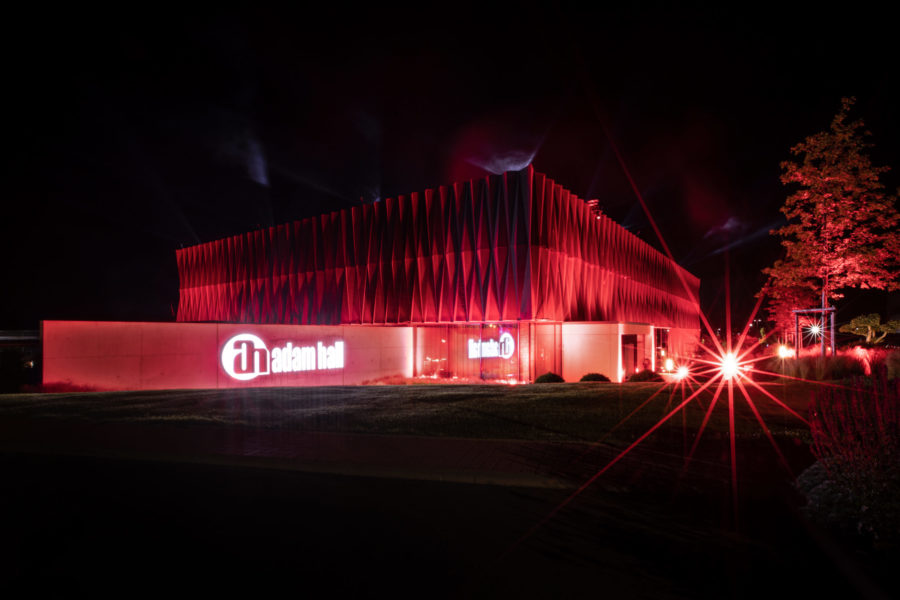 Night of Light: Adam Hall Group Firmensitz in Neu-Anspach © Adam Hall Group
Am 22.Juni 2020 wurde ein rotes Zeichen gesetzt. In der "Night of Light" illuminierten mehr als 8.000 Unternehmen aus der Eventindustrie bundes- und europaweit Gebäude und Bauwerke in der unmissverständlichen Signalfarbe.
Den treibenden Soundtrack lieferte BigCityBeats, offizieller Streaming-Partner der Night of Light, mit einer Sonderausgabe des WORLD CLUB DOMES – live gesendet aus dem Experience Center der Adam Hall Group am Firmensitz in Neu-Anspach. Auf der vollausgestatteten – und menschenleeren – Auditoriums-Stage gaben sich unter anderem die Top-DJs Paul van Dyk, Gestört aber GeiL, Le Shuuk, Milk & Sugar u.v.m. die Crossfader in die Hand, um die (hoffentlich einmalige) Night of Light mit einem einzigartigen DJ-Set zu unterstützen.

Der Grund für die Night of Light könnte dringlicher kaum sein: Die Veranstaltungswirtschaft steht in Corona-Zeiten auf der Roten Liste der akut bedrohten Branchen in Deutschland und fordert Unterstützung, um gemeinsam einen Weg aus der Krise zu finden. Mit der Sonderausgabe des WORLD CLUB DOMES sowie dem komplett in Rot getauchten Experience Center und Lagergebäude leisteten auch BigCityBeats und die Adam Hall Group ihren Beitrag zur bundesweit konzertierten Aktion.
Hilferuf in Rot
Die mediale Reichweite und der Livestream von 20:00 bis 01:00 nachts betrug insgesamt rund 20 Millionen Zuschauer. Mit mehr als einer Viertelmillion Views nach nur drei Tagen hatte bereits der YouTube-Trailer zur WORLD CLUB DOME Night of Light Edition im Vorfeld bewiesen, welche Bedeutung Events und die aktuelle Krise der Branche in der Gesellschaft einnehmen.
"Die Teilnahme an der Night of Light war für uns eine Selbstverständlichkeit – schließlich geht es um das Überleben unserer Branche", so Alexander Pietschmann, CEO der Adam Hall Group. "Events sind nicht nur ein immenser Wirtschaftsfaktor, sondern besitzen auch eine wichtige gesellschaftliche Funktion als das eigentliche soziale Netzwerk auf dieser Welt. First In – Last out, Ohne uns wird es dunkel, Alarmstufe Rot – all diese Kampagnen verdeutlichen, wie entscheidend es ist, jetzt gehört zu werden!"
"Ohne Events entsteht ein riesiges Loch an Kommunikation und Interaktion", bestätigt Top-DJ Paul van Dyk. "Meine Inspirationsquelle ist das Leben an sich. So durfte ich als Künstler viele Länder und Kulturen kennenlernen und habe dies immer als etwas sehr Positives empfunden."
Bernd Breiter, Gründer und CEO der BigCityBeats GmbH: "Lasst diese Industrie nicht sterben! Ohne Supplier, ohne Menschen, die sich für Events einsetzen, wird es auch keine Künstler mehr geben, die auf einer Bühne spielen."
Weitere Informationen: