Licht
vor 7 Monaten
Mathes Kuhn: Lichtdesign für Papa Roach
Auf Tour mit ChamSys, GLP, Robe und SGM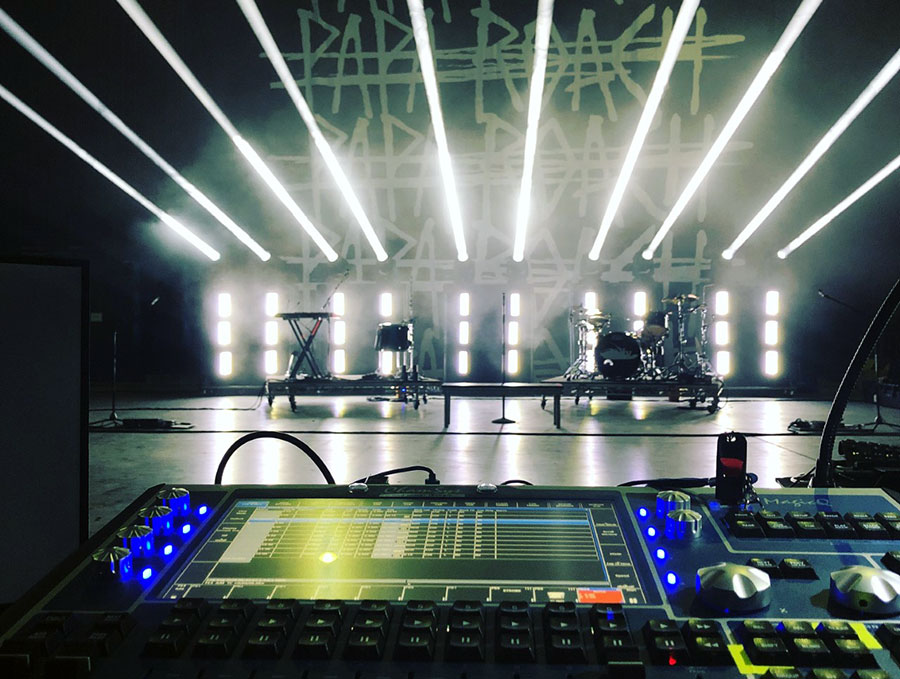 Preprogramming bei Black Box Music. # © Mathes Kuhn
Mathes Kuhn ist seit Frühjahr 2017 immer dann für das Lichtdesign der US-Band Papa Roach zuständig, wenn diese in Europa oder Russland unterwegs ist. Wieso er sich dabei hauptsächlich auf ein Floor-Setup verlässt, hat er mothergrid im Interview verraten.
Welche Anforderungen stellt die Band an das Lichtdesign?
Die Grundidee der Band war eine "wall of light", man wollte mit viel gegenlicht arbeiten um vom typischen Rockbandlook ein wenig wegzukommen. Die Farbräume und grundsätzlichen looks, grade der neueren songs, habe ich dann zusammen mit dem creative director der Band, Darren Craig, der das gesamte Artwork der Band (Plattencover, Videolooks, Fotos) verantwortet, gemeinsam entwickelt.
Und natürlich ist dem Management sehr wichtig das die Jungs in den Keysongs wie "last resort" gut ausgeleuchtet sind, da versucht ja fast jeder, ein paar Bilder oder Videoschnipsel mit dem Handy zu machen.

Wie kommt es zu dieser Aufteilung, welche Vorteile bietet es der Band, auf verschiedene Designer zurückzugreifen? Sind die Designs völlig unabhängig voneinander?
Die Aufteilung hatte sich am Anfang einfach so ergeben, da die Band recht kurzfristig nachdem sie das "croocked teeth" Album fertig hatten, einen neuen Lichtmann für ein paar shows in Russland und Deutschland brauchten, und ich gefragt wurde.
Zurück in den Staaten baute man sich eine US-Crew auf, aber wir blieben in Kontakt, und als dann die Europatour anstand, hat sich die Band dafür ausgesprochen, doch wieder mit mir zu arbeiten.
Nach der letzten Festivaltour kam dann die Entscheidung, das ich ab Januar, wenn das neue Album rauskommt, ganz dabei bin. Wie Jacoby letzens noch sagte, "it just feels right, when you're doing the lights".
Die Designs sind schon unterschiedlich, in Amerika ist man buntere shows gewöhnt, das mache ich in Europa nicht so, ich lasse die Lampen auch gerne mal nur in einer Farbe, und muss sie auch nicht in jedem Song wild bewegen.
Das Floorset besteht unter anderem aus SGM Q7 sowie Robe Pointe, Spike und Spider und seit Neuestem der GLP JDC1: Wieso hast Du Dich für diese Lampen entschieden?
Durch die Idee der "wall of light" war für mich von vornherein klar, das ich durchsetzungsstarke Lampen brauchte, die ich in einer Matrix anordnen kann. Das war am Anfang noch der SGM Q7, der wirklich einen tollen Output hat, und dann seit Sommer der GPL JDC1. Das tolle am JDC1 ist, das er nicht nur einen riesigen Output hat, sondern ich ihn auch in den segmenten pixelmappen kann, so kann ich z.B. low res Videos auf den Strobos laufen lassen, und so tolle looks und Bilder mit relativ geringem Aufwand erreichen. Die Bewegungsmöglichkeit ist da natürlich auch noch ein schönes gimmick.
Als Beamlampe mag ich den Mega Pointe sehr gerne, da er bei geringem Gewicht, kleinem footprint und moderater Stromaufnahme, einen tollen, hellen Beam erzeugt, der gegen meine Strobowand bestehen kann.
Wieso hattest Du nur in DACH ein eigenes Lichtrig dabei und wie wurde das auf den übrigen Terminen gelöst?
In den anderen Ländern wurde das Lichtrig lokal gestellt, in der Regel auf Grundlage meines riders, aber die Venuegrössen waren zu unterschiedlich. In Hamburg z.B haben wir in der Sporthalle gespielt, in Berlin im Velodrom, in Spanien in 1.500er Clubs. Deswegen war das Design auch auf das floorset konzentriert, so hatte ich immer die Möglichkeit, den look der beizubehalten.
Im Spätsommer waren wir auf Festivaltour in Europa, unter anderem auf dem Pukkelpop in Belgien, Summerbreeze und Reload in Deutschland und Leeds/Reading in England. Dort hatte ich ein Floorset bestehend aus 5 lighting carts mit insg. 30 GLP JDC1 im Pixelmode sowie 12 Robe Megapointe. Gesteuert hab ich das ganze mit einer Chamsys MQ80. Das Equipment kommt von GoAudio aus Hamburg.
Wieso verwendest Du ein Pult von ChamSys?
Ich bin tatsächlich dieses Jahr erst von der grandMA gewechselt. Auch wenn der umstieg schon eine Herausforderung war, bin ich mittlerweile auf der Konsole vor allem im täglichen Touralltag einfach viel schneller.
Hinzu kommt, das ich an der MQ80 ohne zusätzliche Geräte bis zu 24 Universen auf Artnet ausspielen kann, auf dem PC Wing sogar 64 Universen. Gerade durch das Pixelmapping auf den JDC-1 ist das einfach wirtschaftlich auch eine gute Wahl. Und zuletzt ist es auch schön, das der PC Wing in meinen Rucksack passt, so habe ich ihn bei fly-in-shows im Handgepäck, und muss keine Sorge haben, wenn das Gepäck mal nicht ankommt.
Wie unterscheiden sich Festivalgigs von denen einer "normalen" Tour?
Auf den normalen Touren kann man sein floorset ein wenig "breiter auf der Bühne verstreuen". Bei den Festivals muss man schon deutlich mehr überlegen, um seine Lampen in Dollies oder so auf Risern zu bauen, das man im changeover nicht zu viel Zeit verliert, aber trotzdem den look bekommt, den man will.
Papa Roach live beim Summer Breeze Festival 2018