into>noise stattet TUM School of Life Sciences-Hörsäle mit CODA Audio aus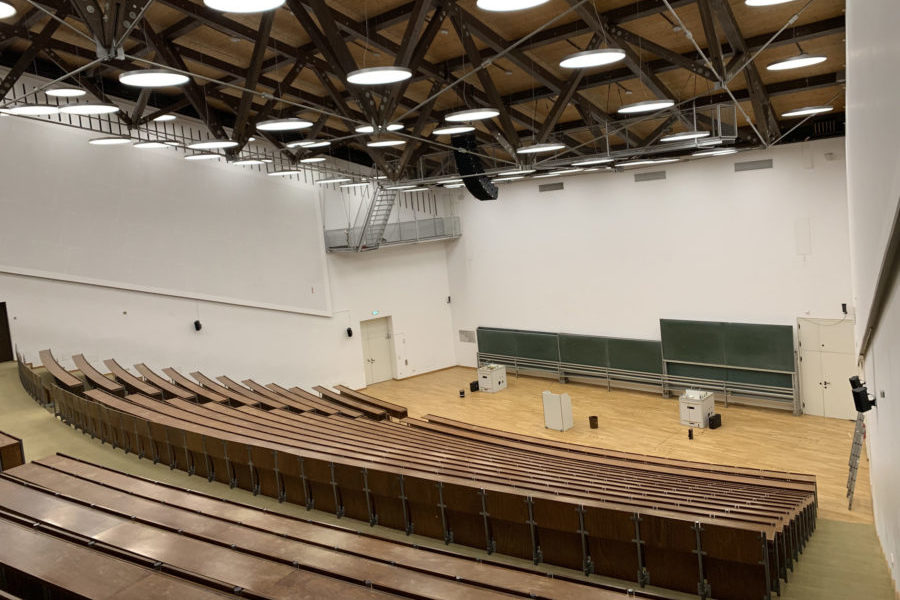 Sound- und Medien-Upgrade: Die TUM School of Life Sciences besticht durch die Installation modernster Systeme © CODA Audio
Die zur Technischen Universität München (TUM) gehörende School of Life Sciences hat drei Hörsäle mit CODA Audio-Systemen ausgestattet. Zum Einsatz kommen unterschiedliche CODA Audio-Komponenten, darunter: ViRAY, TiRAY, HOPS8, HOPS5, APS-Subs sowie LINUS-Amps.
Die TUM School of Life Sciences gehört zur Technischen Universität München (TUM). In der am Campus Weihenstephan im oberbayerischen Freising angesiedelten School werden unter anderem Studiengänge aus den Bereichen der Bio-, Agrar- und Ernährungswissenschaft angeboten. Um den Studentinnen und Studenten der weltweit renommierten Universität bestmögliche Voraussetzungen bei Vorlesungen und Präsentationen bieten zu können, wurden kürzlich drei Uni-Hörsäle mit modernster Medientechnik ausgestattet. GSVA GmbH/Klaus Kuttenhofer zeichnete für den Gesamtauftrag verantwortlich und übernahm die Installation der Bild- und Steuerungstechnik – den Part des akustischen Upgrades übernahm das in Fürstenfeldbruck angesiedelte Unternehmen into>noise, um Andreas Zeh und Tobias Förster. Deren Wahl: Equipment aus dem Hause CODA Audio.

"Die Aufgabe hatte es schon in sich", sagt Andreas Zeh, "bestmögliche Klangqualität und Betriebs- und Feedback-Sicherheit waren genauso gefordert, wie hervorragende Audioqualität für Video-Vorlesungen." Um diese hohen Ansprüche erfüllen zu können, war für Zeh von Anfang an Beschallungs-Equipment von CODA Audio gesetzt. Aus verschiedenen guten Gründen, wie er sagt: "In den letzten Jahren habe ich nur gute Erfahrungen mit CODA Audio gemacht: Die Marke bietet top Support, hervorragende Produkte und – nicht unwichtig – ein erstklassiges Preis-Leistungs-Verhältnis. Klang und Handling der Systeme sind so überzeugend, dass sie auch für diese anspruchsvolle Installation erste Wahl waren."
Volle Ausstattung mit CODA Audio
In den Sälen 14, 15 und 16 lässt sich jetzt ein beträchtlicher Ausschnitt des Produkt-Portfolios von CODA Audio bestaunen: Während in Saal 14, dem größten der drei Auditorien, ein Mono-Center-Cluster, bestehend aus 10 x ViRAY im bi-Amped-Betrieb, sowie 2 x 2 HOPS5 (als Fills an den Seiten) und 2 x HOPS8 (als Delay) zum Einsatz kommen, sorgt in Saal 15 ein TiRAY für den rechten Ton. 2 x 6 TiRAY-Einheiten, sowie 2 x HOPS8 (Delay) bieten die maßgeschneiderte Lösung. In Saal 16, dem kleinsten des Trios, war unter anderem ein sehr guter Klang gefordert – Zeh und Förster lösten die Aufgabe durch ein Stereo-Main aus 2 x 6 x TiRAYs sowie 1 x HOPS8 (Delay) und 2 x APS-Subs (geflogen im Center in der Decke). Diverse LINUS-10C- sowie LINUS-5C-DSP-Amps sorgen schließlich für den zuverlässigen Antrieb der Hörsaal-Systeme.
Da für die Bedienung der Anlagen kein Ton- oder Medientechniker*in abgestellt werden kann, muss das Handling so einfach wie möglich sein. Und das, obwohl sich die PAs auf einer Achse oder sogar bis zu zwei Meter hinter den Sprechern mit ihren Lavalier-Mics befinden. Ein weiterer heikler Punkt: "Die Dozenten gehen mit ihren Lavaliers in den Saal, häufig, um mit den Studenten zu diskutieren. Dafür liegen Publikums-Mikrofone bereit. Die Gefahr von Rückkopplungen ist dabei nicht zu verachten – doch auch das haben wir in den Griff bekommen", sagt Zeh.
Klare Sprachverständlichkeit bis in die letzte Reihe
Besonders zufrieden ist er mit der Ausstattung von Saal 14: "Für die Raumgröße haben wir hier wirklich ein großes bi-amped Mono-Cluster. Das ViRAY ist fast die einzige Beschallungsquelle in dem Raum. Durch das große Array haben wir eine super Kopplung, die sich positiv, also ohne Rückkopplung, auf die Richtwirkung auswirkt." Das System sorge für eine so lückenlose Coverage in dem Raum, dass, so Zeh, "die HOPS5 und HOPS8 als Fill- und Delay-Systeme vor allem dafür da sind, die Sprachverständlichkeit auf den äussersten und hintersten Plätze noch leicht zu verbessern."
Zeh und Förster sind zufrieden mit der Installation. Auch die TUM zeigt sich mit dem Beschallungssystem laut Andreas Zeh zufrieden: "Wir haben bisher ausschließlich positives Feedback bekommen. Sowohl von den TUM-Medientechnikern als auch von den Dozenten."
Weitere Informationen: