Licht
vor 8 Monaten
The Prodigy: Lichtgewitter von Tim Burton und HSL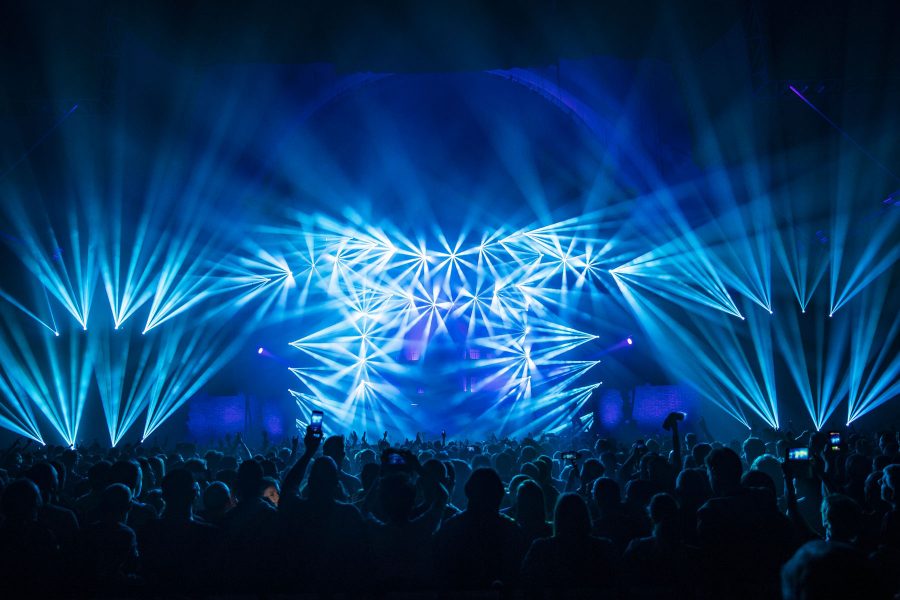 The Prodigy: Ein visuelles Erlebnis, das man nicht so schnell vergisst. # © Louise Stickland
Klangliches und visuelles Chaos auf einer großen Skala, das mit der BIG Beat-Anarchie und den Klängen Von The Prodigy verschmilzt, den stilprägenden Elektroanarchisten-Verweigerern, die einen Saal von Metalhedz genauso beeindrucken könnten wie ein Lager voller verrückter Raver – das war das Ziel des Lichtdesigners Tim Fawkes!
Tim arbeitet seit 2012 für Prodigy und ist seit letztem Jahr ihr Lichtdesigner. Er ist derzeit voll und ganz damit beschäftigt, einen heftigen Aufstand für die aktuellen "No Tourists" zu veranstalten, indem er das siebte Album des Wunderkindes promotet, das gerade erschienen ist und sofort direkt auf Platz eins der Charts einstieg – wie die vorherigen sechs!

HSL ist wieder der Lichtlieferant, und die Band spielt Arenen und wird ihrem Ruf gerecht, zu den aufregendsten und vollwertigsten Live-Acts der Welt zu gehören, seit Liam Howlett, Keith Flint und Maxim 1990 erstmals in Erscheinung getreten sind.
Tim entschied sich für einen massiven, breiten und "epischen" Look für die Bühne.
"Ich wollte weg vom Briefmarken-Look einiger Shows in Arenen, bei denen nur ein winziger Teil des eigentlichen Veranstaltungsortes beteiligt ist", erklärt er. Neben der Energie und Atmosphäre der Beleuchtung wollte die Band das gesamte Publikum umarmen und sie tretend und schreiend in den Prodigy-Live-Bann ziehen, und die Beleuchtung spielt dabei eine absolut instrumentale Rolle.
Tim war auch an der Konzeption und Entwicklung des Set-Designs beteiligt, das auf einer Idee der Band basiert, die von dem Album-Artwork mit dem legendären Londoner Bus Routemaster inspiriert wurde.
In der Mitte der Bühne befinden sich zwei Frontmotor-Doppelstockbusse des AEC Routemaster, die 6 Meter hoch, 2,5 Meter breit und 3 Meter tief sind.
Erbaut von Brilliant Stages Tim arbeitete zusammen mit dem Wunderkind Produktionsleiter Tyrone Brunton und dem Brilliant Account Handler Bullet, um die landschaftlichen Elemente zu perfektionieren.
Dabei handelt es sich nicht um gewöhnliche Londoner Busse – Tim berechnete, wie viele Lichter er in den Raum stopfen könnte und füllte sie mit Martin MAC Quantum Washes, Atomic LED Strobes und ColorBlock II LED Latten, um die Scrollschilder auf der Vorderseite zu beleuchten sowie Cob FC LEDs für die Scheinwerfer.
Kein Bedarf an Videoscreens
Die Band ist nicht sehr daran interessiert, Videos auf der Bühne zu haben – da sie das Konzept für überholt hält, – aber mit einem klaren Bedürfnis nach mehr Verrücktheit auf der Bühne waren die Busse eine großartige Lösung!
Mauerwerk-Paneele verbinden die Bühne mit den Flügeln auf beiden Seiten, so dass der Raum verbunden und verbunden ist, anstatt eine Lücke zu haben, und diese Szenen, beleuchtet mit Chauvet SIXPAR 200IPs, fungieren auch bequem als Schild für die Monitorwelt und andere technische Bereiche.
Die zickzackförmige Traverse über Bühne und Flügel basiert auf der Apexdacharchitektur typischer Londoner Busdepots.
Die vier 20 Meter langen LX-Hauptbinder über der Bühne sind alle mit Martin Sceptron LED-Latten ausgekleidet…. und es befinden sich insgesamt 136 davon auf dem Rigg.
Die wichtigsten Grundleuchten sind 58 x Robe Pointes – ihre Multifunktionalität verdreifacht effektiv die verfügbaren Lichter auf dem Rigg – 62 x Atomic LEDs und 32 x GLP JDC1 Strobes, was insgesamt 98 Strobes, 42 x 2-Lites, 16 x 4-Lites plus die 16 x Robe MegaPointes, die sich auf den beweglichen Pods befinden (siehe unten).
Dazu kommen 50 x MAC Quantum Washes und 12 x GLP X4s, die sich am linken und rechten Ausleger der Band befinden und über die Bühne schießen – Tim hat diesen kleinen theatralischen Ausschnitt glatt in das Gesamtbild des industriellen Kraftwerkschaos geschlichen!
Es gibt auch 33 x Robe LEDBeam 100s, die der Kurve der Backline-Riser des Bandes folgen, einschließlich der beiden On/Off-Rampen.
Vierzehn Vari*Lite 4000 Spots sind auf die Bühne verteilt – sechs auf der Rückseite für die Silhouette und sechs auf der Unterseite für die Tastenbeleuchtung, die anderen beiden auf der FOH für Goboprojektionen während des Intros.
Es gibt sechs originale PixelLine 1044 LED-Streifen in der Rampenlichtposition entlang der vorderen Bühnenlippe – die nach vielen Jahren immer noch leistungsstark sind – und sich als praktisch unzerstörbar erweisen, obwohl sie jede Nacht durch die unerhörten Subbasspegel ordentlich durchgeschüttelt wurden.
Es gibt sechs vertikale Fachwerktürme im Obergeschoss, die die Lücke zwischen den oberen Fachwerkträgern sehr gut ausfüllen, und für einen echten Prodigy-tastischen Rückwandblick gibt es vier Fallreihen hinter dem Obergeschoss, die alle mit Quantum Washes bestückt sind.
Die Flügelbinder sind 6 Meter breit und abgewinkelt, um abwechselnd abgewinkelte, nach oben / unten gerichtete Diamantlinien / Scheitelpunkte zu bilden.
Auf der Bühne befinden sich vier x 4 Meter große Abschnitte von Traversen, die jeweils an zwei 500 kg schweren Liftket-Motoren aufgehängt sind, die mit Kinesys Elevation 1+ Vari-Speed-Einheiten laufen, die für noch mehr Wahnsinn in der Höhe sorgen, zwischen den LX-Traversen 3 und 4 positioniert sind, die von Steve Major mit einem Vector-System betrieben werden, das auf der rechten Bühne stationiert ist…. mit einem Spotter, der auf der linken Seite der Bühne positioniert ist.
Diese Pod-Träger sind ebenfalls mit Skeptrons ausgekleidet und jeweils mit vier Robe MegaPointes, fünf JDC1-Strobes, fünf alten Skool PAR CP60s und vier aktiven Sunstrips bestückt, alle tragen zum Maelstrom der Lichtquellen und visuellen Optionen für Tims Show bei, die vom ersten bis zum letzten Akkord des Sets volle Kanne losmetert.
Um die visuelle Roughness noch zu untermalen, ragen sechs PATT 2013 "Big Dish"-Reflektorleuchten an den Pendelarmen wie riesige Industrieanhänger über die Bühne.
Fünf der HazeBase Touring Nebelmaschinen von HSL sorgen für den nötigen Haze.
Tim programmierte und drückt die Show auf einer Whole Hog Full Boar Konsole von High End Systems, mit einer weiteren Konsole als Hot Backup. Er drückt alles live, was sein hervorragendes Timing und seine Vertrautheit mit der Musik jeden Abend wieder zeigt.
"Es war ein hartes Stück Arbeit", sagte er, "aber das Rigg hat definitiv die Größe, die ich mir vorgestellt hatte! Ich arbeite mit einer fantastischen Crew von HSL zusammen, die dafür sorgt, dass jeden Tag alles mühelos läuft…. und Prodigy sind eine äußerst dynamische Band für Beleuchtung, also genieße ich es, die Show weiterzuentwickeln!"
Sein fantastisches Team auf der Straße ist Crew Chief Matt Brown, zu dem auch Joe Dowling, Stu Wright, Ryan Soave und der bereits erwähnte Steve Major gehören.
Die Tour wird von Jordan Hanson mit Unterstützung von Emma Turner für HSL betreut.
Jordan Hanson: "Es ist immer ein Vergnügen, mit Tim, Tyrone und dem Rest des Prodigy-Teams zusammenzuarbeiten. Ich freue mich jedes Mal, wenn die Tour wiederkommt! Das Design ist massiv und passt wirklich perfekt zu The Prodigy. Fantastische Show und tolle Leute!"
Die Set-Bauer Ray Wheelan und Graham Kersley bauen das Set jeden Tag in enger Zusammenarbeit mit der Beleuchtungscrew zusammen.
FoH: Jon Burton
Monitors: Tom Maddox