Star-Lichtdesigner Mikki Kunttu hält Keynote-Rede bei Prolight + Sound 2020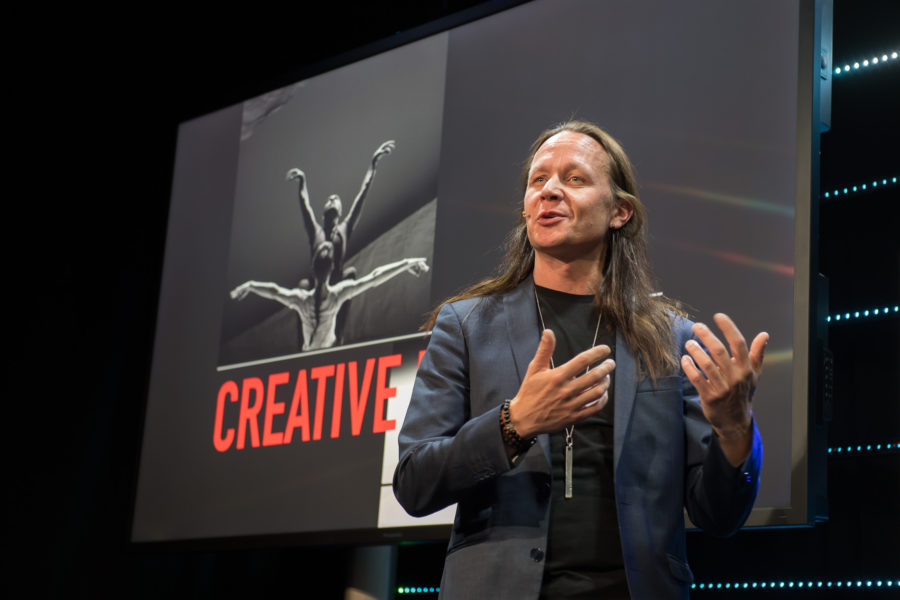 Die 25-jährige Jubiläumsausgabe der Prolight + Sound bietet gleich am Eröffnungstag ein Programm-Highlight für alle Professionals im Bereich der Lichttechnik: Der mehrfach preisgekrönte Licht-, Set- und Content Designer Mikki Kunttu hält eine Keynote-Präsentation, in der er einen Einblick in sein Schaffen und in die Höhepunkte seiner Karriere gibt.
Einen besonderen Schwerpunkt bildet dabei seine Arbeit für "Swan Lake" (Den Kongelige Ballet, Kopenhagen), mit der er international für Furore sorgte. Initiator des Vortrags und Partner bei der Umsetzung ist die Lightpower GmbH, die mit einer umfangreichen Präsentation auf der Prolight + Sound vertreten ist.
Die Keynote-Präsentation findet am 31. März um 16:30 Uhr auf der "Theatre + Light Stage" in Halle 12.0 statt. Im Anschluss an den Vortrag steht Mikki Kunttu für Fragen aus dem Publikum zur Verfügung.
"Wir sind stolz darauf, einen der aktuell einflussreichsten Persönlichkeiten im kreativen Einsatz professioneller Veranstaltungstechnik als Keynote- Redner auf der Messe begrüßen zu dürfen", sagt Mira Wölfel, Leiterin der Prolight + Sound. "Mit seinen innovativen Ideen und seiner Bereitschaft, auch ungewöhnliche Wege zu gehen, hat Mikki Kunttu in den vergangenen Jahren wertvolle Impulse in die gesamte Branche ausgesendet".
"Für die gesamte Entertainment-Industrie ist die Prolight + Sound das Top-Event im Jahr, und es ist eine große Ehre für mich, für eine Keynote eingeladen zu werden. Ich freue mich darauf, über ein Projekt zu referieren, das mir ganz besonders am Herzen liegt, und bei dem die Elemente aus Licht-, Set- und Content Design auf ganz besondere Weise zusammenwirken", sagt Mikki Kunttu.
Spektakuläre Designs in Europa und der ganzen Welt
Bereits seit Ender der 1990er-Jahre ist der in Finnland geborene Kunttu auf dem Gebiet der Inszenierungen für Theater, Live-Entertainment, TV und bildende Kunst aktiv. Im Laufe seiner Karriere hat er Designs für über 100 zeitgenössische Tanzproduktionen kreiert. Darüber hinaus ist Kunttus Arbeit auch im Tour- und Konzertbereich bekannt. So hat er Designs für Künstler wie Nightwish, Michael Monroe, Hanoi Rocks und Apocalyptica kreiert. Im TV war er prägendes Mitglied in den Designteams, die den Eurovision Song Contest der Jahre 2007, 2013 und 2016 entwarfen. Auch in Projekten der bildenden Kunst sowie bei Beleuchtungs- und Projektionsinstallationen wie "Reflections", "Oratoribus" und "Grace" für Helsinkis "Season of Light" Festivals 2009 – 2011 hat Kunttu mitgearbeitet. Zusammen mit der Stadt Helsinki ist er Gründer und Initiator des Festivals.
Zahreiche Auszeichnungen konnte Kunttu im Laufe seiner Karriere gewinnen, darunter den New York Dance and Performance Awards, ("Bessie Awards") in 2006 sowie den Koura Award der Finnischen Rundfunkgesellschaft in 2007. Aktuell lebt Kunttu in Kanada, wo er Designs für die Cirque-du-Soleils-Produktionen "ALEGRIA – In a New Light", "Scalada: In a New Light" sowie "Vitori" kreiert hat.
Mikki Kunttu ist darüber hinaus der Produktionsdesigner (Sets, Licht und Video) für den Opernzyklus "Ring des Nibelungen" von Richard Wagner an der Finnischen Nationaloper. Die erste der vier Opern, "Das Rheingold", feierte ihre Premiere im August 2019. Die nächsten folgen in den Jahren 2020 und 2021.
Zur Keynote-Präsentation von Mikki Kunttu sind alle Besucher der Prolight + Sound sowie Journalisten eingeladen. Die Prolight + Sound findet statt vom 31. März bis 3. April, 10 bis 18 Uhr.
Weitere Informationen: