QSC Quantum Level 1 Training ab sofort online
Troubleshooting und Support-Knowhow für Integratoren und AV-Systemadministratoren.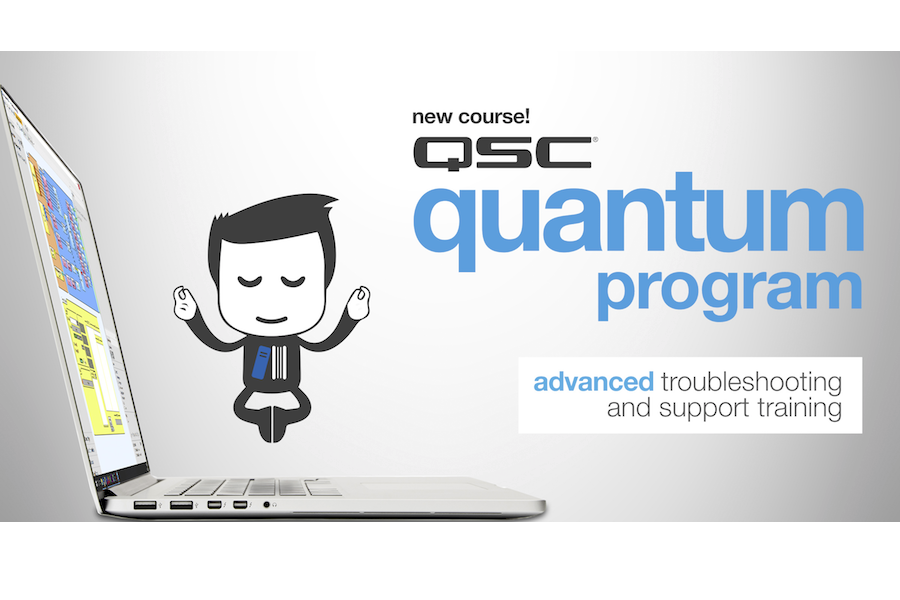 Mit Quantum Level 1 erweitert QSC sein umfangreiches Schulungsangebot um ein neues Trainingsformat.
Das Quantum Training richtet sich an Fortgeschrittene und geht weit über die Grundlagen des QSC Systemdesigns hinaus. Systemintegratoren erfahren mehr über Best Practices zur erfolgreichen Systemimplementierung sowie Methoden, um Support-Probleme im After Sales lösen zu können.
Zu den Schulungsinhalten zählen:
Best Practices für Q-SYS, z.B. für Gain-Struktur, Signalfluss und AEC
Fundiertes praxisorientiertes Wissen, z.B. zu Netzwerktheorie und -topologie, unterstützten Netzwerkdiensten und Funktionen wie SIP-Telefonie, externer Steuerung und Video
Methoden zur Fehlerbehebung, insbesondere in Bezug auf Netzwerkkonfiguration und SIP-Telefonie

Wie bei anderen Q-SYS Online-Schulungen beinhaltet QSC Quantum Level 1 mehrere modulare, nicht-lineare Videos mit kurzen, kompakten Inhalten, die das Lernen im eigenen Tempo ermöglichen. Der Zeitbedarf¸ um das Quantum Level 1 Training zu absolvieren, beträgt ungefähr drei Stunden. Nach erfolgreichem Abschluss aller Online-Tests gelten die Teilnehmer als zertifiziert und erhalten fünf (5) AVIEA RU Credits.
Praxisorientierte Weiterbildung
"Unser bisheriges Systems-Curriculum bietet Integratoren praktische Anleitungen, um Systeme erfolgreich zu planen und zu installieren", sagt Patrick Heyn, Senior Director of Marketing bei QSC Systems. "QSC Quantum Level 1 geht einen Schritt weiter, indem es genauer auf das 'Warum' eingeht und spezifische Ansätze vermittelt, um Systeme zu implementieren und Probleme zu beheben."
"Quantum Level 1 basiert auf unserer Erfahrung mit den zahlreichen Fallstricken im Support und unterstützt Kunden bei der Lösung ihrer realen Probleme", fügt Matt Gray, Senior Manager of Advanced Support bei QSC, hinzu. "Wir hoffen, dass unsere Kunden von diesem umfangreichen Training auch in der Praxis profitieren werden."
QSC Quantum Level 1 ist ab sofort kostenfrei auf der QSC Schulungswebsite verfügbar. Integratoren und AV-Systemadministratoren können jederzeit auf alle Videoinhalte des QSC Quantum Level 1 Trainings zugreifen. Um die Zertifizierung jedoch abzuschließen, müssen die Teilnehmer im Vorfeld die Q-SYS Level 1 und Q-SYS Level 2 Trainings erfolgreich absolviert haben.
Weitere Informationen: