Osram World of Light gewinnt den Sinus Award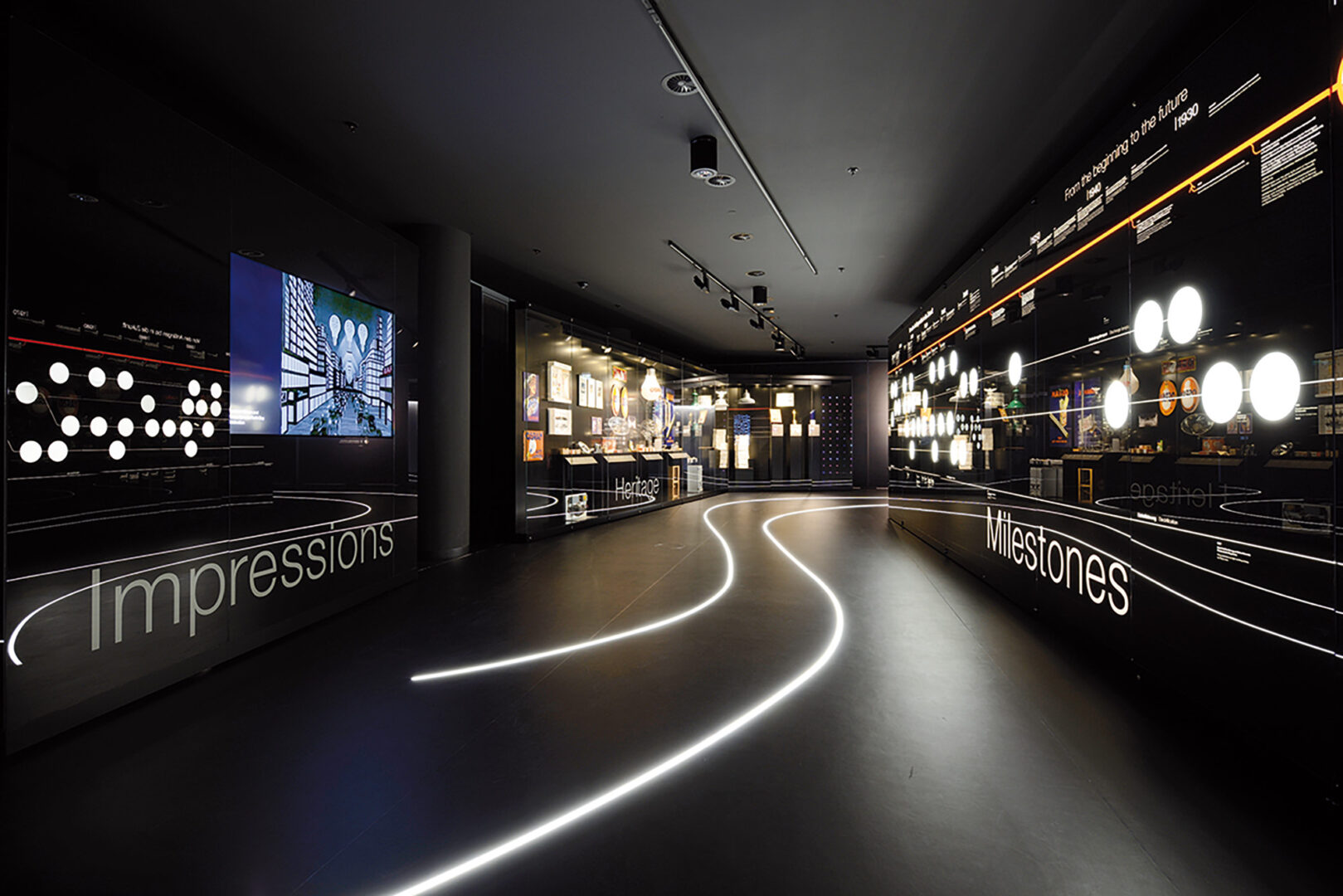 Eine Vielzahl audiovisueller Exponate nimmt Besucher mit auf die Reise durch die "Lichtgeschichte" © Lorenz Kienzle
Die "Osram World of Light", eine Mischung aus Showroom, Workshop- und Event Location, wird auf der Prolight + Sound 2020 mit dem "Sinus – Systems Integration Award" 2020 ausgezeichnet.
Die Auftraggeber sowie die ausführenden Unternehmen Ranger Design (Generalübernehmer), Techniz Ingenieurbüro (medientechnische Planung) und weitere Projektbeteiligte nehmen den Preis am 2. April auf der Prolight + Sound in Frankfurt entgegen.

Der Sinus prämiert herausragende kreative und künstlerische Leistungen und Lösungen beim Einsatz von Technik in audiovisuellen Installationen. Er wird seit 2004 alljährlich auf der Prolight + Sound verliehen. Jury und Kuratorium des Preises setzen sich zusammen aus Vertretern des Verbandes für Medien- und Veranstaltungstechnik e.V. (VPLT), des Europäischen Verbandes der Veranstaltungs-Centren e.V. (EVVC) sowie Branchenkennern, Vertretern der Fachpresse und der Messe Frankfurt.
World of Light: Von der Glühlampe bis zum modernen LED
Der anspruchsvoll inszenierte Showroom zeigt das Kompetenz- und Produktspektrum der Osram Licht AG und präsentiert das Unternehmen als High-Tech-Anbieter mit über 100-jähriger Tradition. Auf zwei Ebenen entstand eine Infotainment-Welt mit Lichtkino, Audio- und Video-Inhalten, vielfältigen Licht-Einheiten und Nebeleffekten. In einer Light Box wird Licht emotional erlebbar – eine Zeitachse der Lichttechnik dokumentiert die Meilensteine der Entwicklung. Im Erdgeschoss sorgt ein bewegliches Glas-Trennwandsystem für unterschiedliche Raumvarianten: offen als Areal für Pressekonferenzen und Großevents, geschlossen als vielseitiger Workshop-Bereich.
Die Jury des Sinus Award lobt besonders den multifunktionalen Ansatz, der verschiedenste Nutzungs-Szenarien zulässt, sowie die konsistente Realisation vom Modell bis zum fertigen Projekt, die den Anforderungen des Auftraggebers optimal gerecht wird. Auf diesem Wege seien besondere Herausforderungen auf hervorragende Weise gemeistert worden: darunter die Integration der World of Light in bestehende Flächen der Firmenzentrale sowie die Planung und Installation einer komplexen Mediensteuerung über mehrere Gebäudeteile hinweg.
Die Projektbeteiligten im überblick:
Die Prolight + Sound findet vom 31. März bis 3. April 2020 statt.
Weitere Informationen: