Jonas König und GLP auf Tour mit The BossHoss
Lichtdesigner Jonas König kreiert starke Looks mit KNV Cube, impression X4 Bar, GT-1 und FR1.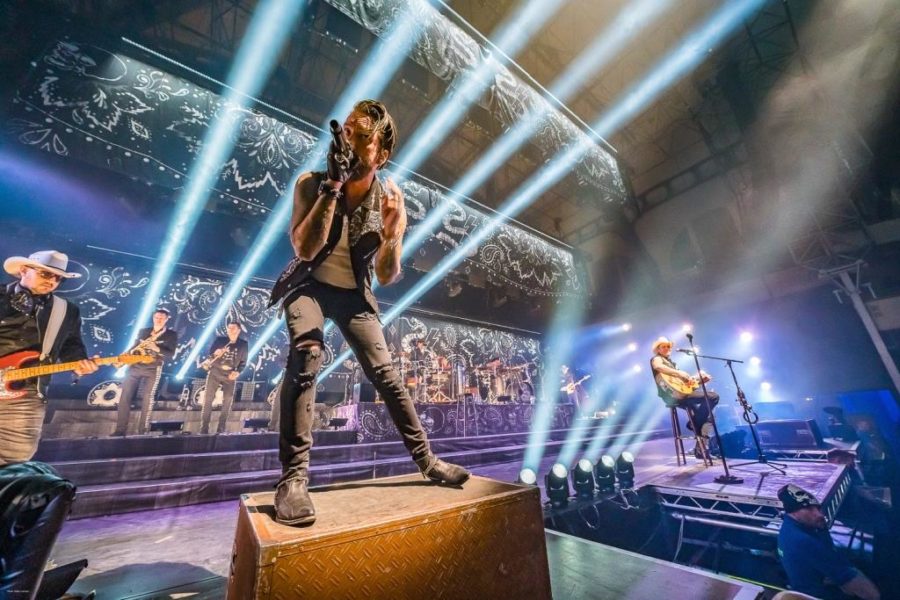 Im Oktober 2018 erfreuten The BossHoss ihre Fans mit dem nun 8. Studioalbum "Black is Beautiful". © Ralph Larmann.
Die mdc licht.gestalten. GmbH & Co. KG aus Mettmann verantwortete das Licht-, Video- und Set-Design der The BossHoss "Black Is Beautiful"-Tournee, die im April 2019 startete. Das Lichtdesign stammt von Jonas König von mdc licht.gestalten., der die Tour auch als Operator begleitete.
Gefragt war eine klassische Rock'n'Roll-Bühne mit reichlich unkonventionellen Elementen, die eine Vielzahl verschiedener Looks würde wiedergeben können. "Die Bühne sollte nicht zu 'clean' wirken, sondern schon ordentlich das Rock'n'Roll-Feeling transportieren", erinnert sich Jonas König. "Dementsprechend sollte die Show 'groß' wirken und in jeder Halle ein Wow-Erlebnis sein."

Diesem Konzept näherte sich Jonas über eine zunächst in schwarze Vorhänge gehüllte Bühne an, die während der Show nur Schritt für Schritt die Menge der verbauten Lichttechnik enthüllen sollte. Die eigentlich recht klassische Front/Mitte/Back-Anordnung wurde durch große Abstände der Traversen zueinander aufgebrochen. Sämtliche Licht- und Videotechnik ist in den Traversen untergebracht worden. Um diese nach und nach offenlegen zu können, wurden die Traversen von drei Meter hohen und 18 Meter breiten Bannern verdeckt, die sich mit Hilfe motorischer Vorhangschienen öffnen ließen. Hinter den Vorhängen kam eine Matrix aus PAR64-Scheinwerfern in Sechser-Anordnung zum Vorschein, die von schmalen LED-Streifen unterbrochen wurde, um nicht zu "Old-School" zu wirken.
GLP FR1 und GT-1 als Arbeitstiere im Einsatz
Als "Blumenkasten" an der Bühnenvorderkante setzte Jonas 20 der kompakten und vielseitigen GLP impression FR1 ein. Mit diesen bestritt er die komplette Lichtshow der Vorband Seasick Steve. Während der Show von The BossHoss leuchtete der Designer damit in erster Linie die Bühne aus. Sechs weitere FR1 taten in der Fronttruss ihren Dienst und setzten Highlights auf Set-Elemente im hinteren Bühnenbereich. Teilweise durften sie aber auch ihre Beam-Qualitäten ausspielen. "Der Output ist angesichts der Größe der Geräte einfach der Wahnsinn!", bestätigt Jonas.
"Ich hatte vorher schon mit fast allen Produkten von GLP gearbeitet, nur die FR1 waren mir neu. Beim Probeaufbau sorgten diese kleinen Lampen für das eine oder andere Schmunzeln in den Gesichtern der Techniker. Die Bühne war ja doch sehr groß… Als es dann los ging, gab es große Augen. Angesichts der sehr kleinen Bauform ist es echt überraschend, was da raus kommt. Außerdem sind die FR1 mit dem Zoom sehr flexibel einsetzbar."
Das Floorset bildeten 20 GLP GT-1, jeweils in Fünfergruppen angeordnet, die über die gesamte Show hinweg als Arbeitstiere im Einsatz waren und einen Großteil der Lichtshow ausmachten. "Mit den GT-1 habe ich viele symmetrische Beam-Looks gezeichnet und konnte der Bühne so einen sehr modernen Look verleihen", fährt Jonas fort. " Die GT-1 sind super für große Venues. Die Beams ziehen mächtig durch und waren bei The BossHoss eine wirkliche Bereicherung für die Show. Selbst in Rottönen und mit offenem Zoom hat die Lampe noch viel Output. Dank der Unmenge an Features ist dieser Hybrid natürlich ebenfalls sehr flexibel."
46 KNV Cube ersetzen Strobes
Obwohl als Rock'n'Roll-Show konzipiert, fand sich kein einziges konventionelles Stroboskop auf der Bühne. Stattdessen sind 46 KNV Cube im Floorset in Zweiersets sowie in den Gassen verbaut worden. Jonas und GLP Key Account Manager Olli Schwendke trafen sich letztes Jahr zu einer KNV-Demo, bei der die Idee entstand, das KNV-System für The BossHoss zu spezifizieren. Hier dienten sie hauptsächlich als Strobes / Blinder, gaben aber auch verschiedene Eyecandy-Effekte wieder. "Die KNV sind einfach nur brutal", berichtet Jonas weiter. "Der Look der Geräte ist modern und hat unser Set schön aufgefrischt."
Mit 48 impression X4 Bars beleuchtete der Designer zunächst die Vorhänge, die anfangs die Bühne einhüllten, und spielte sie später in der Show als Effektlampen aus.
Technischer Dienstleister der Tour war Black Box Music Berlin. Neben Jonas König als LD / Operator kümmerten sich Alex Erdmann, Marcel Kirchhof, Hendrik Stark, Felix Wintergarten, Florian Reincke und Jan Schneider um alle lichttechnischen Belange. Das Video-Gewerk wurde von Tino Schilke, Kevin Paap, Benedict Hirsch und Johann Börner betreut. Der Video-Content für die Shows wurde ebenfalls von mdc licht.gestalten. in enger Zusammenarbeit mit Jens Probst erstellt. Roger Ulbrich begleitete die Tournee als Stage-Manager, Roland Beckerle hatte die Produktionsleitung inne. Lukas Fischer verantwortete den Setbau und die vielen Vorhänge waren bei Dirk Schindler in den besten Händen.
Weitere Informationen: