Licht
vor 1 Monat
Maßgeschneiderte GLP Theaterlichter für die Mountview Academy
LD Adam King schätzt die 'TH'-Varianten der X4-Scheinwerfer mit RGBY-Chip für authentische Hauttöne.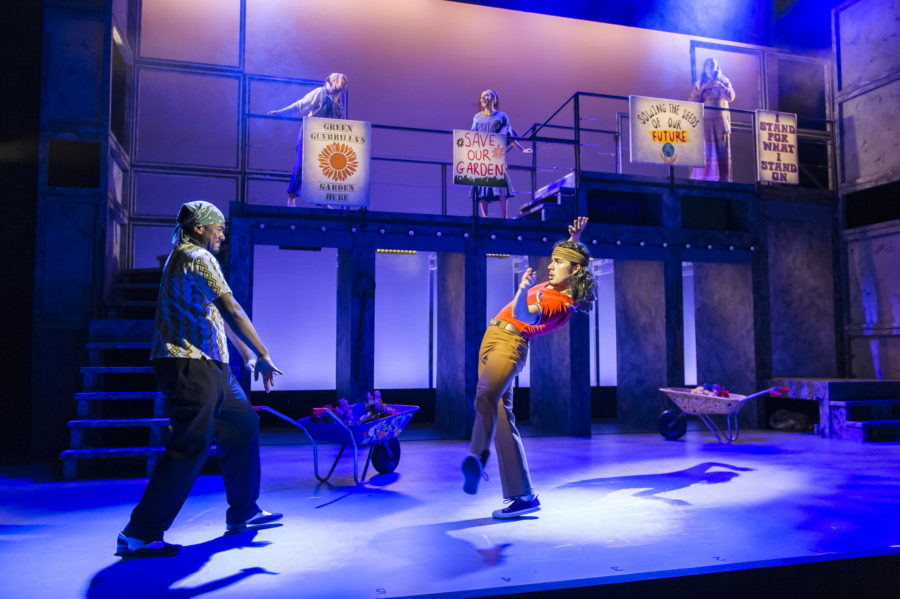 Proben in der Mountview Academy © Mountview Academy/Robin Savage
Eine der führenden Schauspielschulen Großbritanniens, die Mountview Academy of Theatre Arts mit Sitz in London, startet in ihre neue Saison mit Unterstützung der britischen GLP-Niederlassung und einer einfallsreichen Programmierung von maßgeschneiderten Theater-Scheinwerfern von Mountview-Absolvent Adam King – mittlerweile ein prominenter freischaffender Designer.
Als die Academy von ihrem früheren Standort in Wood Green, wo King einen B.A. (Hons) in Theatertechnik mit Spezialisierung auf Beleuchtung erworben hatte, in ihr neues Gebäude in Peckham umzog, bot sich die Gelegenheit ein neues Theater zu konfigurieren. Hinzu kam ein speziell entworfenes Licht-Grid, an dem die Beleuchter ihre Scheinwerfer aufhängen und fokussieren können. Dazu gehört auch eine große Zahl von GLP-Scheinwerfern, die maximalen Gestaltungsspielraum schaffen.

Adam King hatte das Glück, bei der West-End-Produktion "Harry Potter and the Cursed Child" mit dem Top-Theaterlichtdesigner Neil Austin zusammenzuarbeiten. Dort entdeckte er auch erstmalig die speziell auf Theater zugeschnittenen TH-Versionen der GLP-Scheinwerfer impression X4 und X4 Bar mit gelbem Chip, die Austin selbst mit angeregt hatte. Diese sind mittlerweile als Sondermodelle Bestandteil des GLP-Katalogs.
"Ich wurde sofort überzeugter Anhänger von GLP", sagt King. Über seine langjährige Verbindung zu Mountview erfuhr er im vergangenen Jahr, dass das Schauspielhaus im Begriff war, neue kopfbewegte LED-Profilscheinwerfer anzuschaffen. Und das verhalf GLP zum Durchbruch. Nachdem der Designer gerade erst mit den GLP impression S350 gearbeitet und die Qualität ihrer Pastellfarben bewundert hatte, bestand er darauf, dass das Modell in den vom Fachhändler WL ausgerichteten Shootout mit aufgenommen wurde.
Kräftige Farben für Theaterbühnen mit GLP impression TH
"Sie hatten sich andere Marken angeschaut, bis ich die S350 erwähnte", erinnert er sich. "Ich unterzog die Produkte einigen strengen Tests. Die CMY-Farben des S350 waren perfekt, und von allen getesteten Scheinwerfern ging nur der S350 exakt zurück in seine Ausgangsposition und lieferte bei allem, was wir ihm abverlangten, auf den Punkt. Es war absolut großartig und Tom Mannings (Mountviews Leiter für Technik und Produktion) sagte, dass der S350 für ihn das passende Gesamtpaket sei, das kompakte Abmessungen mit knackiger Farbleistung verbindet."
Die fünf Back-to-Back-Produktionen der Mountview Academy in diesem Jahr werden unter Einhaltung der strengen COVID-Regeln (mit einem maximalen Publikum von nur acht Personen) praktisch zuschauerfrei sein. Alle werden die acht impression X4 Bar 10 TH, sechs impression X4 TH RGBY-Movinglights und sechs der originalen impression X4 sowie sieben impression S350 Profilscheinwerfer nutzen können, die jetzt fest im Rigg installiert sind.
Adam King zeigt sich beeindruckt von der Aufmerksamkeit, die GLP den spezifischen Anforderungen des Theatermarktes schenkt; ebenso wie die Techniker*innen, die unter der Leitung von King, assistiert von Adam Mottley, bei der Programmierung auf der hauseigenen ETC Gio (die jetzt allein auf weiter Flur im Parkett steht) unterstützt haben.
"Die RGBY-Versionen liefern auf jeden Fall viel mehr Wärme und einen schöneren Hautton als der kalte Chip", stellt Adam King fest. "Ich nutze also eine Mischung aus warmen und kalten Scheinwerfern im Theater. Wir verwenden kühles Licht als Hintergrundbeleuchtung und warmes für die Hauttöne. Die TH-Versionen eröffnen eine andere Welt im Theater. Mit den warmen Tönen kann man Dinge tun, die sonst nicht möglich wären."
Mountview von GLP überzeugt
Die fünf Produktionen von Mountview bestehen in diesem Jahr aus "Macbeth" (in rein männlicher Besetzung), "New York, LA und London" (ein musikalisches Triptychon) und "Hamlet" (in rein weiblicher Besetzung). "Es sind also viele verschiedene Dinge los", fährt der LD fort. "In unserem Bühnenbild haben wir sechs Tunnel auf der Rückseite, durch welche die X4 Bars 10 hindurch leuchten. Die kühlen Standard-X4 sind ein Spitzenlicht im Rigg und die warmen X4 sorgen für ein eher schräges Frontlicht; es ergibt also eine gute Mischung."
Die Programmierung wird im Laufe der Zeit immer weiter fortschreiten. "Zum Beispiel wird es im zweiten Stück ein Pixelmapping der Bars geben, um glitzernde Effekte zu erzeugen."
Zusammenfassend stellt Adam King fest: "Was mir an GLP gefällt, ist die Tatsache, dass ich immer Support habe. Ich habe während der Arbeit mit Neil und der Entwicklung des gelben Chips erlebt, dass sie sich für deine Ansichten interessieren und immer zuhören."
Weitere Informationen: