Licht
vor 2 Monaten
Elation Proteus Maximus & Paladin beleuchten New Yorks "Little Island"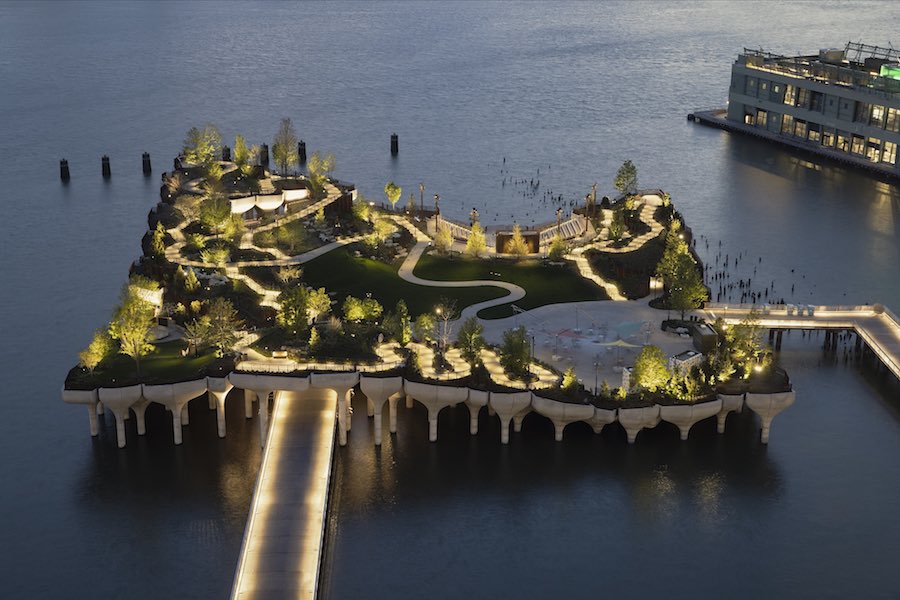 ELATION Professional beleuchtet New Yorks "Little Island" © Michael Grimm
LD Herrick Goldman wählt bewährte IP-Scheinwerfer Proteus Maximus und Paladin von Elation Professional für die Beleuchtung einer variablen Auftrittsfläche im neuen künstlichen Inselpark der Stadt.
Mit Little Island @Pier55, einer Inseloase im Hudson River westlich von Manhattan, verfügt New York City seit diesem Jahr über einen einmaligen Ort der Kunst und eine neue grüne Zuflucht vor der Hektik des Stadtlebens. Der Park besteht aus 132 topfförmigen Pflanzgefäßen, die über dem Wasser zu schweben scheinen. Er bietet eine üppige Landschaft mit sanften Hügeln, Spazierwegen und offenen Rasenflächen. Eingebettet zwischen mehr als 390 Arten von Blumen, Bäumen und Sträuchern der Insel befinden sich Veranstaltungsflächen, die mit IP-65-zertifizierten Scheinwerfern von Elation Professional ausgestattet worden sind.

Der vom Heatherwick Studio und dem Landschaftsarchitekturbüro MNLA entworfene 2,4 Hektar große künstliche Inselpark, der von der Diller-von Furstenberg Familienstiftung finanziert wurde, ist ein neuer öffentlicher Park, der die darstellenden Künste integrieren möchte. Ein Amphitheater mit 687 Plätzen und Blick auf den Hudson, eine kleinere Bühne für 200 Zuschauer*innen und ein offener Platz sind für eine Reihe von Darbietungen vorgesehen.
Die Ästhetik respektieren
Anfang 2020, kurz bevor Covid zuschlug, holte Josh Weisberg von Navolo Audio-Video Herrick Goldman an Bord des Projektes, um bei der Gestaltung und Spezifikation der Beleuchtungssysteme zu helfen. Goldman, Gründer und Chef-Designer bei Evoke Collaborative (Evokecollaborative.com), wurde gebeten ein Lichtdesign zu entwerfen, das den Anforderungen eines Kunden entspricht, der höchsten Wert auf Ästhetik legt. "Herr Diller wollte nicht, dass irgendetwas von der Schönheit des Parks ablenkt, also haben wir sehr genau darauf geachtet, einen sehr sauberen Look zu beizubehalten", sagt Goldman. "Meine Aufgabe war es, das nicht nur zu steuern, sondern auch die notwendigen Arbeitsmittel für jeden bereitzustellen, der im Amphitheater auftritt."
Goldman arbeitete mit Little Island Production Manager Kelsey Martinez und Audio & Lighting Supervisor Patrick Lachance zusammen, um sowohl nützliche als auch optisch ansprechende Looks mit Fokuspunkten, Presets und Paletten zu erstellen, die Gast-Designern oder Lichttechnikern des Parks zur Verfügung stehen. Die gesamte Beleuchtung für Little Island wurde von WorldStage geliefert.
Elation Professional für modernes Amphitheater
Das Amphitheater, das den Spitznamen The Amph trägt, befindet sich am westlichen Ende von Little Island. Die Architekten planten sechs Masten in den Park und um das Amphitheater herum. Das Amphitheater hat eine zehn Meter breite und fast 14 Meter tiefe offene Bühne, die in den Zuschauerbereich hineinragt. Das Publikum sitzt auf drei Seiten der Bühne, der Hudson River umschließt sie im Westen. Es war klar, dass hier eine Beleuchtungslösung nach Schutzart IP 65 benötigt würde. Um den extremen Wetterbedingungen in New York standzuhalten, wurden der Beleuchtungsplan und die Spezifikationen mehrfach geändert.
"Wir haben sieben oder acht verschiedene Iterationen durchgemacht", erklärt Goldman. "Angefangen mit einem eher theatralischen Plan mit Schauspielflächen. Das führte jedoch dazu, dass wir zu viele Scheinwerfer brauchten, was nicht ins Budget oder in die Vorgabe einer klaren Ästhetik passte." Nach Gesprächen mit dem Kunden über eine "schlankere und sauberere" Lösung folgte ein Besuch bei WorldStage in New York, um mögliche Scheinwerfer unter die Lupe zu nehmen. Dort testete Goldman mehrere Scheinwerfer der Paladin- und Proteus-Serie von Elation und entschied sich schließlich für den Paladin, einen hybriden LED-Wash/Strobe/Blinder mit Zoom, und das 50.000 Lumen LED-Movinglight Proteus Maximus von Elation.
Paladin & Proteus Maximus setzen sich durch
Goldman habe sich dafür entschieden, acht Paladin an jedem der sechs Masten zu installieren, anstatt eine Reihe von PAR-Kannen aufzuhängen, was unruhig ausgesehen hätte. "Bei einer Bühne mit Publikum auf drei Seiten muss die Beleuchtung jedem Blickwinkel des Publikums gerecht werden. Man muss 270 Grad abdecken. Sobald wir die Paladin montiert und eingeschaltet hatten, zoomten wir sie weit auf, und sie deckten mit einem riesigen Wash gesättigter Farben das gesamte Amphitheater, einschließlich der Sitzreihen ab. Die Reichweite und Intensität waren unglaublich", sagt er und fügt hinzu: "Auch wenn man ein Jahr damit verbracht hat, die Scheinwerfer zu spezifizieren und sie vorher mal in der Hand hatte, bleibt immer ein Rest Unsicherheit, bis sie schließlich installiert sind. Aber die Paladin haben jeden Zweifel eindrucksvoll weggewischt."
Unter den Paladin-Scheinwerfern an jedem Mast hängen außerdem jeweils zwei Proteus Maximus LED-Movinglights und bilden ein flexibles Setup, das den Gastkünstler*innen eine Vielzahl von Optionen bietet. "Wir können jemanden in der Bühnenmitte auftreten lassen und ihn mit vier Proteus anstrahlen, um alle Winkel abzudecken und haben immer noch acht Proteus zur Verfügung, um die Bühne zu gestalten", erklärt Goldman. "Wir können ein Gobo einsetzen und herauszoomen, um die Bühne mit einer Textur zu versehen. Es ist wirklich gelungen und alle sind sehr zufrieden." Die Reichweite von den Masten beträgt zwischen 24 und 45 Meter, wobei alle Proteus so programmiert sind, dass sie auf einen von 16 verschiedenen Bereichen fokussieren.
Der Designer sagt, bevor er beginnt, den Bühnen-Look zu kreieren, erstellt er zunächst ein "Show-Weiß". "Weil ich nicht der Endanwender bin und es so viele potenzielle Shows gibt, die da reinkommen – sogar eine Modenschau oder ein Filmdreh zum Beispiel –, möchte ich allen eine Auswahl an Tageslichtfarben geben: 5600K, 5200K, 4800K bis runter auf 2700K." Als er die Paladin einschaltete und mit seinem Belichtungsmesser versuchte, diese Werte zu erreichen, war der Weißabgleich für jeden der Beleuchtungspunkte durchweg hervorragend. "Ich wusste, dass der CRI der Geräte zwischen 72 und 84 liegen würde, was für einen LED-Wash großartig ist, aber als es um den Abgleich ging, dachte ich, dass sie vielleicht ein wenig grün oder rosa sein könnten. Als wir aber anfingen mit ihnen zu spielen, insbesondere mit dem Hinzufügen und Abziehen des weißen LED-Chips, bekamen wir wirklich großartige Farben aus ihnen heraus. Wir waren jedes Mal von Anfang an sehr nah am Ziel, was mir die Arbeit enorm erleichterte." Dann wandte sich das Team den Maximus zu. "Wir haben das CTO-Rad am Maximus angewählt und alle Weiß-Werte so leicht getroffen, dass wir kaum noch daran feilen mussten, um unser gewünschtes Endergebnis zu erreichen."
Elation SixPar 200 beleuchten Wiesenbühne
Da Natur und Kunst eine Symbiose bilden, bietet der Inselgarten weitere kleinere Bereiche für noch intimere Aufführungen. The Glade auf der Südseite von Little Island ist ein schräg abfallender Wiesenbereich, der Platz für 200 Personen bietet. Hier sorgen acht Elation SixPar 200 IP PAR-Scheinwerfer und ein Paar Paladin für eine einfache farbwechselnde Beleuchtung der knapp fünf Meter breiten Bühne. Die Paladin, die für das Frontlicht aus etwa 18 Metern Entfernung verwendet werden, können so nah heranzoomen, dass sie eine einzelne Person auf einem Hocker genauso gut beleuchten wie eine ganze Band im weiten Zoom.
Little Island wurde am 21. Mai 2021 eröffnet. Der neue Park beherbergt eine Reihe von verschiedenen Angeboten, die meisten davon kostenlos. Der Veranstaltungskalender umfasst lokale Künstler*innen, Headliner und einwöchige Festivals zu bestimmten Themen.
Weitere Informationen: