Licht
vor 11 Monaten
Christ's Church of the Valley investiert in GLP
Standorte in Arizona entscheiden sich für E350, S350 und X4 Bars.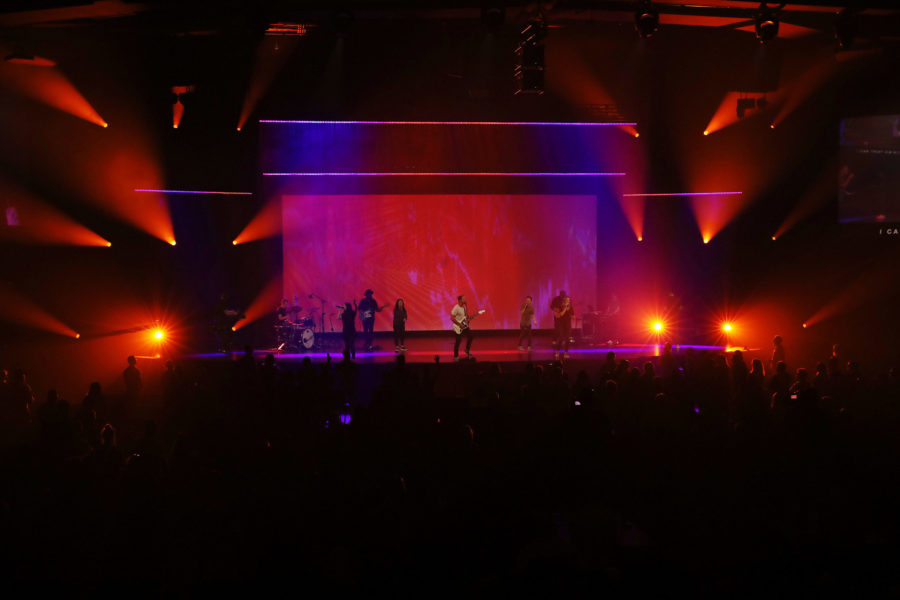 Campus Peoria der Christ's Church of the Valley © GLP
Die Christ's Church of the Valley (CCV), eine nicht konfessionelle christliche Kirche mit Sitz in Phoenix und weiteren Standorten im ganzen Bundesstaat Arizona, investierte kürzlich in Scheinwerfer von GLP um den Broadcast Campus der Kirche aufzuwerten.
Im Jahr 1996 erwarb die CCV jene Immobilie, die heute als Campus Peoria bekannt ist. Im Jahr 2000 bezog sie den Campus schließlich und eröffnete vier Jahre später ein Auditorium mit über 3.500 Sitzplätzen.

Da Peoria gleichzeitig der Broadcast-Campus der Kirche ist, entschied man sich kürzlich für eine Erweiterung der Bühne um eine Reihe von GLP-Scheinwerfern. Acht S350 Moving Head Profilscheinwerfer als Key Light sowie 32 X4 Bar 20 wurden als Teil eines langfristigen Rentalpakets von 4Wall aus Las Vegas bezogen. Gleichzeitig hat die CCV für ihren neu eröffneten Verrado-Campus zehn E350 Moving Heads (die hellere Variante des S350 mit einer extrem engen Irisblende) installieren lassen. Nach Angaben von CCV-Produktionsdesigner Trevor Rigsby werden alle neuen Campus-Auditorien künftig mit einer Reihe von E350 Spot-Movinglights ausgestattet, wobei die Stückzahlen jeweils mit der Größe der Bühnen und Auditorien variieren.
Volle Ausstattung mit GLP
Rigsby, der von Haus-Lichtdesignerin MeKenna Beauregard unterstützt wird, ist gut vertraut mit den Produkten von GLP. "Der erste GLP-Scheinwerfer, den ich jemals auf einer Bühne eingesetzt habe, war das Volkslicht. Ich liebte diese Lampe und benutzte sie ständig. Tatsächlich verdanke ich meine Liebe zu GLP-Produkten dem JRLX-Präsidenten Jason Reberski, der mir GLP erstmalig vorgestellt hat." Und seitdem ist Trevor den Scheinwerfern des deutschen Herstellers treu geblieben.
Von den jüngsten Anschaffungen waren die S350 dafür vorgesehen, die in die Jahre gekommenen Entladungslampen zu ersetzen. Die Geräte wurden von Clearwing Productions mit Sitz in Phoenix geliefert, dem festen lokalen Lieferanten der Kirche.
"Ich hatte mehrere Aspekte im Hinterkopf, die mich letztlich zum S350 geführt haben", erklärt der CCV-Designer. "Wir wollten auf jeden Fall LED, da wir für keinen unserer Räume mehr Movinglights auf Entladungsbasis anschaffen, um die Wartungskosten zu senken. Zweitens mussten die Scheinwerfer klein und kompakt sein. Ich wollte sie so niedrig wie möglich unter die Catwalks hängen, ohne die seitlichen Leinwände zu behindern. Tatsächlich ist es uns gelungen, Traversen unter den Catwalks zu montieren, etwa anderthalb Meter niedriger als die früheren Hängepositionen. An diesen Traversen haben wir die neuen Movinglights montiert."
Ein weiterer wichtiger Faktor sei der geringe Stromverbrauch gewesen. "Ich wollte vermeiden, dass ich für die neuen Geräte viel Strom an den Traversen entlang führen muss. Wir haben kein Problem mit der Leistung, aber wir wollten wirklich nicht unzählige Stromkreise neu verlegen müssen, die dann dauerhaft in dieses System eingebunden wären." Und wieder einmal habe GLP an allen Fronten geliefert.
Aber der vielleicht größte Vorteil war die variable Farbtemperatur, ohne die CMY-Werte mischen zu müssen. "Ich musste mindestens 5.500K erreichen können, um die Anforderungen des Video-Gewerks zu erfüllen. Außerdem wollte ich eine Lampe mit variablem CTB haben, sodass wir die Farbtemperatur für die Kameras je nach Anforderung schnell würden ändern können. Die Videoleute lieben es, wie diese Scheinwerfer in der Kamera aussehen. Sie sind also ein großer Gewinn, und insbesondere die variable Farbtemperatur hat dazu beigetragen, die Investition intern zu vermitteln."
X4 Bars und E350 Spots als Ergänzung
Soweit zu den fest installierten Geräten. Aber Trevor Rigsby ist genauso begeistert von den 20 X4 Bar 20, die den Kern seines neuen Rental-Pakets für die Kirche ausmachen. Warum hat er sich für diese Geräte entschieden?
"Nun, zunächst lieben wir sie einfach", lacht er. "Ich wollte ein paar klare, gerade Lichtlinien haben, also habe ich mir überlegt, in die aktuelle Bühne Bars einzubauen, die gleichzeitig die Flexibilität von Zoom und Tilt bieten." Außerdem sei er von der Farbwiedergabe der X4 Bars beeindruckt. "Das ist natürlich wichtig, und der GLP-Farbraum ist wirklich stark. So sehen diese Bars natürlich auch im Videobild großartig aus."
Auch mit der Eröffnung des neuen Verrado-Campus griff Trevor Rigsby wieder in das GLP-Portfolio – diesmal, um einen Schwung E350 zu kaufen, sein Spot-Movinglight der Zukunft.
"Wenn wir einen Campus neu eröffnen, achte ich darauf, die Beleuchtung zunächst so einfach wie möglich zu halten. Letztes Jahr wollte ich unsere alten Profiler gegen einen neuen Spot austauschen, der mehr Hybrideigenschaften hat. Ich wünschte mir etwas, das funktionsreich, aber auch kompakt ist." Sein Kriterienkatalog umfasste unter anderem einen beeindruckenden Zoombereich, starke Farben und leistungsstarke Mid-Air-Effekte.
Der Designer kannte den leistungsstarken E350 dank einer Demo, die ihm Dave Barten von GLP gegeben hatte, bereits gut. "Ich arbeite gerne mit Dave zusammen, und er hält mich auf dem Laufenden, was es Neues und Aktuelles von GLP gibt. Noch bevor ich mich hingesetzt habe, um die Bühnen für Verrado zu entwerfen, wusste ich, dass ich die bisher verwendeten Spot-Movinglights im Auditorium gegen den E350 austauschen wollte, und die Lampe erfüllte ziemlich viele meiner Kriterien."
Zusammenfassend gibt Trevor Rigsby GLP ein klares "Daumen hoch": "Ich bin immer wieder begeistert von den Eigenschaften und der Qualität, die sie ihren Produkten verleihen. Und während die Produkte für sich selbst sprechen, lege ich immer mehr Wert auf die Menschen – und GLP hat einige wirklich erstaunliche Menschen an der Spitze. Ich bin achtsam bei der Auswahl der Marken und Lieferanten, mit denen ich zusammenarbeite, und jede Interaktion mit GLP gibt mir das Gefühl, dass man sich wirklich um mich kümmert, nicht nur als Kunde, sondern auch als Designkollege."
Weitere Informationen: