Video
vor 2 Monaten
AV Stumpfl setzt Superzug in Szene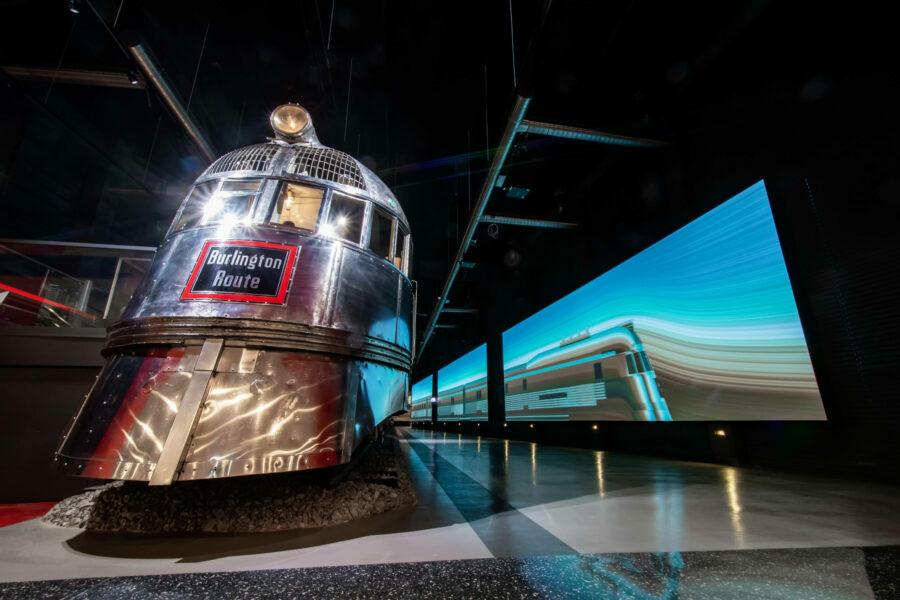 Obwohl das Aussehen des Zephyrs die Öffentlichkeit zuerst schockierte, verliebte sie sich nach einiger Zeit in nahezu alles, was stromlinienförmig daherkam. © Heidi Peters / Museum of Science and Industry, Chicago
Das Museum of Science and Industry hat vor kurzem seine berühmte Pioneer Zephyr Ausstellung neu eröffnet. Im Rahmen der erfolgten Renovierungsupgrades, kamen auch digitale und analoge Systemlösungen des österreichischen Technologieherstellers AV Stumpfl zum Einsatz.
Das Chicagoer Museum of Science and Industry (MSI) wurde kürzlich mit einem AV Stumpfl PIXERA mini Quad Medienserver und drei Fullwhite Leinwänden ausgestattet, um im Rahmen der frisch renovierten Pioneer Zephyr Ausstellung neue Akzente zu setzen.

Die Ausstellung, welche bereits seit 1960 Teil der MSI Kollektion ist, lädt Gäste dazu ein, den 60m langen Passagierzug Pioneer Zephyr zu bestaunen, der seinerzeit das Zusammenspiel von Reisen und Design förmlich neu erfand. Seine faszinierende Geschichte wird durch die Kombination verschiedener Medien erzählt.
Der Zephyr revolutionierte durch seine stromlinienförmigen Aufbauten aus rostfreiem Stahl den Look von Schienenreisen, bei gleichzeitiger Senkung der Kraftstoff- und Betriebskosten.
Vom Transport zum Toaster
Obwohl das Aussehen des Zephyrs die Öffentlichkeit zuerst schockierte, verliebte sie sich nach einiger Zeit in nahezu alles, was stromlinienförmig daherkam. Die elegante Form des Zuges spiegelte sich in Folge sogar in Alltagsgegenständen wieder, in gewisser Weise eine Entwicklung vom Transport zum Toaster.
"Der Pioneer Zephyr ist ein beliebtes Stück Transport- und Museumsgeschichte, das Besucher bereits seit mehreren Generationen beeindruckt.", bemerkt John Llewellyn, Creative Lead des MSI. "Wir sind begeistert, diese Museumsikone wiedereröffnen zu können, damit Besucher ganz nah das wunderschöne Design und die unglaubliche Geschichte erleben können, welche die Bühne für das bereitet, was sie beim weiteren Erkunden des MSI erwartet"
Ein Kern des Ausstellungsupdates, welches das Ziel verfolgte, den Zephyr für neue Generationen erlebbar zu machen, ist eine mehr als 50 Meter lange Projektion, die am Zug entlang verläuft. Die Besucher an Bord des Zuges haben so das Gefühl, tatsächlich in Bewegung zu sein. Der "West Wind Vista" genannte Projektionscontent trägt jedoch nicht nur zum Gefühl der Bewegung bei, sondern unterstreicht zudem den Einfluss des Pioneer Zephyr auf die Entwicklung von Verkehr, Aerodynamik und Stromlinienformen innerhalb des industriellen Designs.
Die Creative Technology Group wurde mit der Umsetzung der Installation beauftragt, mit Michael Fuller als Projektleiter.
Fuller und sein Team identifizierten AV Stumpfl Fullwhite als das perfekte Leinwandsystem für das Projekt, da die rahmenlose Optik dabei helfen würde, die immersive Natur des projizierten Contents zu bewahren. Insgesamt kamen drei Fullwhite Leinwände mit einer jeweiligen Größe von 13m x 4m zum Einsatz.
Die Profis von CT spezifizierten zudem einen AV Stumpfl mini Quad Medienserver, der den Content für drei Projektoren steuern und ausspielen sollte.
AV Stumpfl punktet mit Schulung vor der Installation
"AV Stumpfl Produkte innerhalb unseres Designs für das Pioneer Zephyr Projekt zu verwenden, war für uns der beste Ansatz.", erläutert Fuller. "AV Stumpfl fertigen ihre feinen Produkte mit großer Sorgfältigkeit, was beim Endresultat wirklich zum Tragen kam. Der Kundenservice und die erhaltene Unterstützung waren großartig. Ein Schlüsselfaktor bei der Umsetzung der Projektion war auch die Tatsache, dass sie unser Team vor der Installation geschult haben."
"Wir sind sehr glücklich darüber, dass unsere Systeme im Rahmen eines so prestigeträchtigen Projekts zum Einsatz kamen.", kommentiert AV Stumpfl Global Marketing Advisor Hans Christian Stucken das Projekt. "In der gleichen Weise, wie diese inspirierende Ausstellung neueste Projektionstechnologie und zeitlose Ingenieurskunst vereint, konnten wir mit Hilfe des sehr talentierten CT Teams zeigen, wie gut unsere analogen und digitalen Produkte performen, wenn sie im Tandem miteinander eingesetzt werden."
"Museumsbesucher lieben die neue Ausstellung und staunen über die überlebensgroße Projektionsinstallation, die dem Zug zu Energie und Bewegung verhilft.", erklärt Sheila Cawley, MSI Vice President of External Affairs. "Kinder und ihre Eltern fühlen sich inspiriert, während sie mehr über die Geschichte des Zephyrs lernen und die Wissenschaft und das Ingenieurwesen erforschen, die Bahnverkehr ermöglichen. Die neue Ausstellung ist ein Publikumshit."
Links:
Photo credit: Heidi Peters / Museum of Science and Industry, Chicago